July 26, 2022 | Hailey Brooks
Weekly Summer Events

This summer has been heating up with all the exciting summer events we have planned. Now we're adding weekly events to that list!
Continue reading to find out more.
Merch Mondays

Come visit us in either of our Tasting Rooms on Mondays for 15% off all our logo gear. Grab a sweatshirt to cozy up by the fire with, a t-shirt to keep you cool on a hot summer day, or snag one of our stainless-steel sippy cups to keep your drinks cold all summer long! But that's not all, we have so many other amazing logo items for you to grab so come take advantage of the sale while it lasts! Anyone who makes a purchase and provides their email on Mondays will be entered to win a $200 grand prize pack of Adirondack Winery merch at the end of the summer!
Trivia Tuesday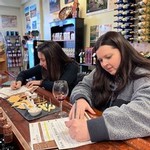 Test your knowledge this summer at Adirondack Winery! When you book a tasting on Tuesdays this summer, you'll get a trivia slip at the start of your tasting with fun wine & Adirondack-themed questions. Everyone who completes their trivia slip will be entered to win a free case of wine at the end of the summer! Book your tasting today!
Local Wednesdays

We love our locals! Every Wednesday this summer if you are a resident of Saratoga, Warren, or Washington county, show your ID and you'll get 15% off all our delicious boards such as our Adirondack Charcutier board, Brunch board, & Dessert board. Not only will you get 15% off all our boards you will also be able to shop around our retail area and get 15% off all the local foods we have for purchase. Some of these items include ADK Winery infused jelly, Saratoga Crackers, Nettle Meadow Cheese, Marshmallows from the Hudson Valley Marshmallow Co. and so much more!
Thirsty Thursdays

Cool off this summer at the Adirondack Winery! Every Thursday we're offering buy one get one 50% off the Original Wine Tasting Experience. This discount is valid for both our Lake George and Queensbury locations. When booking your tasting online use code THIRSTYTHURS for your discounted tasting. Also, while visiting on Thursdays if you buy 6+ bottles of wine you will get a free bottle. Click here to book your tasting today!
Wine Wisdom Fridays
Want to gain knowledge on the world of wine? Then you will want to join us on Fridays this summer! Every Friday you can chat with our Sommeliers at our Lake George and Queensbury Tasting Rooms. They'll be sharing their wine knowledge with you and you will be able to take home an information packet so you can share your newfound knowledge with friends! Or join us in Queensbury on Fridays at 6:30 for Wine Wisdom With Eldon! Click here to book a tasting or click here to book Wine Wisdom With Eldon.
Sunset Saturday
What better way to end your Saturday than with wine! Enjoy an evening on our patio as the sun sets and the lights come on. Grab your friends and get competitive with corn hole, giant Jenga, or bocce ball. We offer amazing experiences to make sunset Saturdays even better. Book our Fireside experience to have one of our firepits for you and your friends for the whole evening! Or, book our Picnic experience for a fun date night that includes a charcuterie board and a bottle of wine on a picnic blanket on the lawn.
These daily events will take place throughout the summer. We hope to see you at one (or all) of these amazing days we have planned. Keep an eye out for more exciting events to come post-summer!
Comments
Commenting has been turned off.