February 3, 2016 | Adirondack Winery's This and That... | Sasha Pardy
Who's Who and Who's New at Adirondack Winery?!
Mike and I are fortunate and proud to say that 2015 was a year of growth at Adirondack Winery - We grew our distribution to more than 300 liquor stores and restaurants across Upstate New York, we launched the Adirondack Wine and Food Festival in Lake George; which was met with great success; we have more club members than ever and have experienced a big jump in people ordering our wine online and having it shipped to their home this year; and we have seen a clear increase in popularity of our tasting room in Lake George over the past several months!
Well, with all this growth comes more work and we're bursting at the seams with it! I want to give a shout out to all the great people that work at Adirondack Winery that keep us going and growing; and in particular, I want to share some info on some staff that have been promoted and some that we have hired new!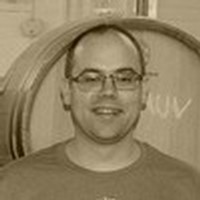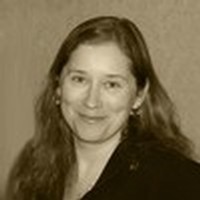 First of all, I want to note, Brad Casacci, who has been with us for about 5 years, toiling away along with Mike making all of our wines that you love; and then Ava Dally, who has been with us for two years as our Tasting Room Manager and doing a great job delivering the best experience to you when you visit the Lake George Tasting Room. And of course, there's all those smiling faces you see when you visit our Tasting Room... our Associates who share their knowledge and life stories with you during the thousands of tasting sessions they perform each year.
Lastly, Stephanie, Michelle, Rob, Darren and Jennalee have all either been recently promoted or joined our team - I asked them each a few fun questions and here's what they had to say!
Stephanie Ottino: Marketing & Events Manager

Stephanie has been with us since the Spring of 2013 and has had a lot to do with our growth at Adirondack Winery. Stephanie leads the charge for the Adirondack Wine & Food Festival, our Annual Anniversary Celebration, our fall "Drink Pink" effort, and all of our Tasting Room Events; she's also responsible for our attendance at more than 20 Wine Festivals across New York, and more. With Stephanie's recent promotion she is now managing our Marketing efforts as well.
Also, a congratulations is in order, as Stephanie is set to marry her fiance, Matt, in the Fall!
Michelle Mabb: Office & Customer Service Coordinator

Michelle has been with us since summer 2014. Michelle's in charge of keeping all of your Case & Wine Club information sorted out, manages the backend of our website, and if you're calling or chatting with us, it's most likely Michelle you're talking to! She also keeps us all stocked and organized at the office and is our go-to gal for any information we need.
Michelle has an adorable daughter, Riley, at home and in May will be bringing baby #2, Stella, to the World! Congrats to Michelle & Cody!
Rob Rezin: Marketing & Graphic Design Specialist

Rob joins us with several years experience in Marketing and Graphic Design. His most recent positions include Marketing at the Adirondack Mountain Club, Lake George Pedal Cab Co. and YMCA Camp Chingachgook. He'll be the one communicating with you all on our Facebook, Instagram, Twitter and Pinterest pages; designing our materials; creating our email newsletters; writing interesting content, keeping our website fresh and lots more!
Darren Smith: Assistant Tasting Room Manager

Darren has been with Adirondack Winery since this past summer and is the recipient of many positive reviews for his customer service at the Tasting Room. Darren is helping Ava to keep the Tasting Room running smoothly, keeping it stocked, making sure you are delivered the best tasting experience possible during each winery visit. Darren also helps out wherever he can in wine production, transport & shipping, too!
Darren, along with his wife, 5 year old daughter and 3 year old son, moved to the Adirondacks this past summer from California, where they lived on a sailboat for over 2 years!
Jennalee Bramer: Events Assistant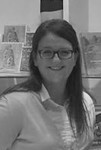 Jennalee comes to Adirondack Winery with several years working in events, entertainment and bartending / waitressing. She knows customer service and she knows what it takes to keep people having fun and engaged in events and activities. You will see Jenna leading our Tasting Room Events and representing us at offsite wine tasting events and festivals. Plus, Jenna will be helping out shipping orders that you fill online.
A congratulations is in order for Jennalee, too, as is marrying her best friend this month! For their honeymoon, they're going on a road trip exploring museums, aquariums and BBQ joints!
---
WHAT IS YOUR FAVORITE ADIRONDACK WINERY WINE AND WHY?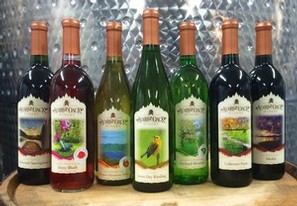 STEPHANIE: As a dry red fan, our Cabernet Sauvignon has always been my go-to wine! But when we released the Semi Dry Riesling, that quickly became a new favorite of mine. It's crisp, refreshing, and the perfect balance of being not too dry and not too sweet.
MICHELLE: For me, it's a tie between the Orchard Blossom and the Amethyst Sunset. I love the semi-sweet, fruit infused wines and I can't choose between the white and the red! Something tells me our new wine being launched at our Anniversary Celebration is going to end up being my favorite though - stay tuned!
ROB: Amethyst Sunset. I don't usually love sweet wine, but I was so surprised how much I enjoyed this wine. My girlfriend and I had it with dinner and we wound up finishing the bottle!
JENNALEE: Prospect Mountain White was the first white wine I really loved- for years I only drank reds, but the peach infusion added something special that I really took to! It's perfect for a hot summer day. I also really really love the Pinot Noir- it's so smooth and busting with berry flavor. The Meritage is super yummy too. I guess I just really love Adirondack Winery wines in general!!!
WHAT DO YOU ENJOY MOST ABOUT WORKING IN YOUR FIELD?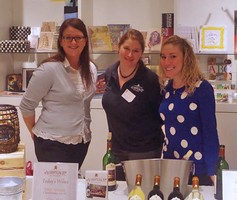 STEPHANIE: My favorite part about working in events is that it's always different and never boring. Every weekend, every event, every crowd – they're always different from the last. Although this can also be the challenging part – it keeps my job exciting and I love that. I get to be creative, travel to different areas of NY, meet great people, and share what Adirondack Winery has to offer.
MICHELLE: What I like best about working in my position is that things are always changing at the winery, so my job never gets boring. We're always adding a new wine, marketing to a new audience, trying a new event, etc. so it keeps things fresh.
ROB: My favorite parts about working in marketing are how it constantly keeps me on my toes and how much there is to learn. The landscape changes so quickly, that if I don't have my head in the game every day, I start to fall behind.
JENNALEE: I most enjoy facilitating good times for people- I like being behind the scenes making sure t's are crossed and I's are dotted so things run smoothly and others can enjoy themselves. I like to have fun too, and not to sound like a dork, but making sure details are not forgotten and things are done properly is fun for me :-) I also enjoy marketing- spreading the word, making sure people know of events that are happening and getting people pumped up for fun times to come. (you could say I like to be a "hype" person!)
WHAT ARE YOUR HOBBIES OR ACTIVITIES IN YOUR SPARE TIME?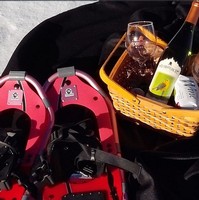 STEPHANIE: I enjoy spending as much time as I can with my family and friends. I like to travel, I am a sports fan, and love Italian food!
MICHELLE: I am very crafty in my spare time. I like to refinish antique furniture, I make some of my own jewelry and I crochet (I just finished a tiny trapper hat for my soon to be baby #2!). I also enjoy being outside camping, fishing or soaking up the heat of a bonfire with some friends.
ROB: In my spare time I like to hike, ski, bike, read, and go to the movies.
JENNALEE: I love to ski - cross country, downhill and water....I really just love to be outside- walking my dog, hiking, swimming, boating, kayaking, wandering around the woods, gardening. I also really like bird-watching. I like to travel too- I've been to many different places around the world and across America- my fiancee and I are a huge fan of road trips! I like to cook a lot too...we're really big into food. I make up a lot of recipes and make most everything we eat from scratch. I also like rock collecting, mining for Herkimer diamonds and anything else you can dig out of the ground. I love to read- I love to learn, and have read almost every single national geographic that has come out...I also love to read science and nature journals and magazines. I also enjoy being on a microphone and hosting trivia :-) I could probably write a book about all the things I like doing but I think it's time to stop :-)
IF YOU COULD GO ON VACATION ANYWHERE AND MONEY WASN'T AN ISSUE, WHERE WOULD YOU GO?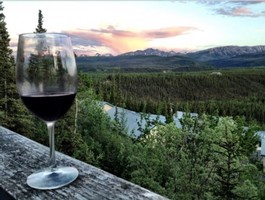 STEPHANIE: France. I was lucky enough to go Italy once before, and would love to go to France one day! There are great sights see, food to eat and wine to drink!
MICHELLE: I would love to go on a vacation in New Orleans. I've always been interested in history and New Orleans is full of historic buildings, museums and great culture. I'm also half French Canadian, so I would love to see another side of French culture that differs from Montreal, Quebec and Paris.
ROB: If I could go on vacation for a week and money wasn't an issue, my first choice would probably be a ski and/or sea kayaking trip in Alaska.
JENNALEE: I would definitely go to Egypt! I've always wanted to go...ever since I was young, and I would go to every single museum and not miss any exhibit! I read a book about Cleopatra when I was young and that fascination has never left me.
---
Stay tuned as we expect to adding another staffer to help out Brad in wine production, too!
We hope you've enjoyed learning a little about our staff here and they all look forward to interacting with you in the near future! Mike and I are excited to have them all along on this journey through growing pains that we continue through!
Sincerely,
Sasha Pardy
Co-Owner & President
Comments
Laura kamburelis

@ Feb 11, 2016 at 2:39 PM

Love your location in Lake George. Enjoy your Wine and the customer service that you offer.

Commenting has been turned off.