January 19, 2021 | Sasha Pardy
UPDATED 01/19: Wine Tastings Returning Soon, Bottle Deals for Everyone, Club Members Get In-Store Discounts on ANY Order!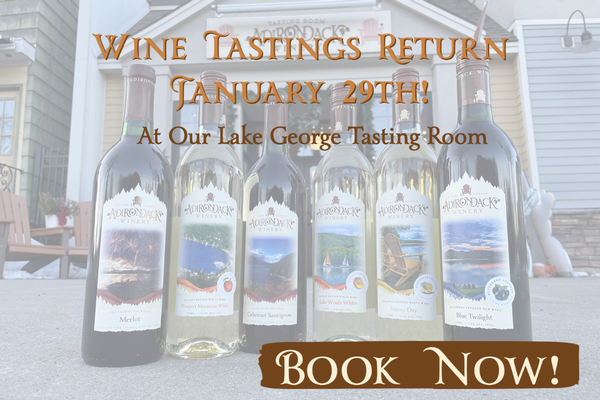 01/19: Wine Tastings return to our Lake George Tasting Room Starting Jan. 29th, Queensbury still open for bottle sales and pickups!
In this difficult time, THANK YOU for supporting local, drinking local, and backing Adirondack Winery!
We want to keep you updated about everything we're doing to help keep our customers and employees safe while making it more convenient and affordable to shop for our wines than ever before.
Wine tastings will return to Lake George starting Jan. 29th! You can now book your reservations at adkwinery.com/book and find all of the important information you need to know regarding the return of our tastings! Queensbury will still be open for bottle sales and pickup orders, though wine tastings will not return there until this spring.
Plus, we are offering $15 off 12 bottles and FREE shipping on any order of 6 bottles of wine or more! (No promo codes necessary.)
---
Here is a full recap of all the ways you can place and order today and save!
1) Place a shipping order online 24/7 – http://bit.ly/AdkShip We have temporarily updated our shipping policies to include free shipping on 6+ bottles. Shipping orders will be processed as soon as possible and can get to you quicker than you might expect! Bottle discounts automatically apply. (You must select a shipping state on the cart screen before you can click checkout and change to a pickup order.)
2) Curbside pickup at Lake George & Queensbury – http://bit.ly/adkwinerypickup Our locations in Lake George and Queensbury are now open for curbside pickups - including on-the-spot curbside! You can also arrange for a curbside pickup by ordering online at adkwinery.com (and writing "curbside pickup" in the order notes), or you can call 518-668-9463, message us on Facebook or start a chat on adkwinery.com and we will take care of you ASAP. See hours and phone numbers below:
CLICK HERE TO SEE LG TASTING ROOM HOURS
IF PARKING IS UNAVAILABLE ON CANADA ST. please pull into our back parking lot behind our Tasting Room on Iroquois Ave. and call 518-203-2597.
CLICK HERE FOR QUEENSBURY HOURS
Bolton Landing Tasting Room: CLOSED FOR THE SEASON
3) You can also find our wines at 400+ liquor stores across Upstate New York adkwinery.com/wheretobuy
To all of our customers: Thank you for supporting Adirondack Winery and we will do everything we can to help you get the wine you want in a safe and effective way. If you have any questions about our policies, you can reach us at ilovewine@adirondackwinery.com or 518-668-WINE.
Sincerely,
Sasha Pardy, Mike Pardy & the Adirondack Winery Team
Comments
Commenting has been turned off.