September 7, 2018 | About Events | Roberto Cruz
Adirondack Winery is the Official Wine Sponsor of the 2018 Adirondack Balloon Festival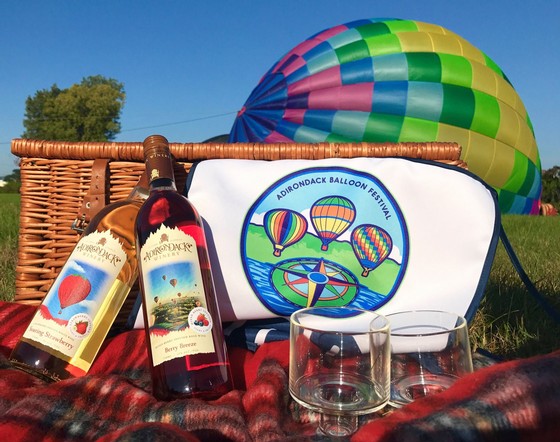 In its 46th year, the Adirondack Balloon Festival is one of the premier fall events in the Lake George area.
Adirondack Winery is proud to support such an amazing event, and this year we are happy to announce we are the Gold Official Wine Sponsor of the festival.
Our winery will donate 500 bottles of our Soaring Strawberry and Berry Breeze wines to balloonists and area homeowners who graciously allow festival balloons to land on their property. Both wines feature hot air balloons on their labels, and it is one way we support this important (and fun!) event all year long.
The 2018 Adirondack Balloon Festival will be held Thursday, September 20 to Sunday, September 23. An opening ceremony with live music, children's activities, and food vendors is held Thursday afternoon at Crandall Park in Glens Falls. Numerous other events, including a Big Balloon Breakfast on Saturday and Sunday, are held at the Floyd Bennett Memorial Airport in Queensbury. In addition to early morning balloon flights, a "Moonglow" night flight will occur Saturday evening at the airport, weather permitting.
Our Balloon Festival efforts complement our 6th Annual Drink Pink Fundraiser at our Lake George and Bolton Landing Tasting Rooms. From September 15 to October 31, Adirondack Winery will donate $4 for every bottle of our Drink Pink Berry Breeze and Drink Pink Berry Blush sold.
Click here for a complete schedule of Adirondack Balloon Festival events.
Want to see what kind of incredible views you get at the festival? Watch our YouTube videos from last year's festival.
And here's a look back at the 2016 festivities:
We hope you join us at this year's festival. And if you're in the area, stop by our Lake George or Bolton Landing tasting rooms, where we will be serving our award-winning, locally crafted wines all day. You pick up any bottles or accessories you need for your weekend – and hopefully some to take home, too. Cheers!
Comments
Commenting has been turned off.