Merlot Strawberries with Vanilla Cream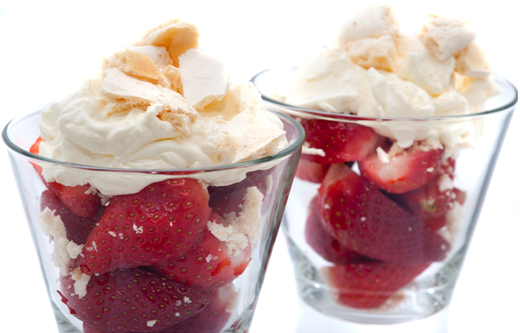 Recipe Date:
January 12, 2015
Measurements:
Imperial (US)
Ingredients
8 ozs Mascarpone Cheese
1/2 cup Whipping Cream
2/3 cup Sugar
1 Vanilla Bean (split lengthwise)
2 1/2 cups Merlot (or other dry red wine)
1 tsp Lemon Juice
6 cups Sliced Strawberries
Directions
1. Combine Mascarpone , cream and 2 tbps of sugar; scrape seeds from vanilla bean into mixture (reserve pod). Beat with a mixer on low speed until soft peaks form; cover and chill.
2. In a 4 to 6 quart pan over medium heat, frequently stir wine, lemon juice, remaining sugar and vanilla bean pod until mixture is simmering, about 12 minutes.
3. Remove from heat, stir in strawberries. Let cool about 1 hour.
4. Ladel strawberries and liquid into wine glasses or goblets (at least 8 oz). Top with mascarpone cream.
NOTE: Mascarpone cream can be perpared up to 2 days ahead; cover and chill. Whisk briefly before serving. Strawberries can be poached up to 4 hours ahead; let stand at room temperature. Instead of mascarpone, strawberries can be topped with whipped cream.
*This dessert would pair well with Fireworks Merlot or Soaring Strawberry.