January 9, 2019 | Sasha Pardy
A Look Back at Our Biggest Year Yet!
2018 was a year for the record books – and we couldn't have done it without you!
From our 10th anniversary celebration to a record year for our Drink Pink fundraiser, last year marked some major victories for not only our winery but also the local programs and services we are proud to support.
Following strong sales online and in our Tasting Rooms in the first quarter of 2018 thanks to events like Winter Carnival and holidays like Valentine's Day drawing thousands to Lake George, we celebrated our 10th anniversary in April.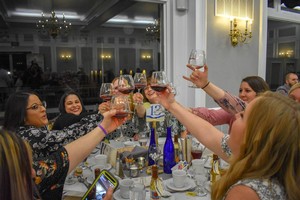 This weekend-long celebration we called "Cheers to the Years" included special Uncork & Craft events at our Tasting Rooms, yoga on the Fort William Henry lawn and a five-course meal with our biggest fans at the Fort William Henry Hotel. (Our 11th-anniversary events will be announced soon. Stay tuned!)
This year was also a banner year for our fundraising efforts. We are proud to support amazing local organizations like Big Brothers Big Sisters of the Southern Adirondacks, the Adirondack Theatre Festival, the Lake George Music Festival, the Adirondack Balloon Festival, the Adirondack Film Festival, the Lower Adirondack Regional Arts Council, the Regional Food Bank of Northeastern New York, the Saratoga Center for the Family, the Boys & Girls Club, the Lake George Jazz Weekend, March of Dimes and more.
We are also proud to continue our support for an amazing organization near and dear to our hearts -- the American Cancer Society's Making Strides Against Breast Cancer.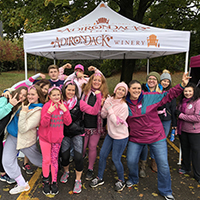 This year, with your help, we raised a record $8,000 for this program that provides life-saving services to patients battling cancer in our communities. Through the sales of our special Drink Pink Berry Breeze in September and October, Drink Pink Uncork & Craft events at our Tasting Room, raffle basket giveaways and more, we were able to beat our fundraising goal by $1,500! It all culminated with the Making Strides Against Breast Cancer 3k walk on Oct. 28, where our team - the top fundraising team yet again - marched through downtown Glens Falls to raise awareness for this great program.
In 2018, we also launched several new wines that you LOVED. "Frozen Over" Vidal Blanc, our grapefruit-infused Drifter, and apple pie-infused Home Sweet Home are huge hits with our customers - with the latter selling out in just weeks! (Look for it again later this year!)
Our wines also racked up the awards this year, with Gold and Double-Gold Medal wins for our Merlot, Berry Breeze, Seyval Blanc, Cabernet Franc, and Pinot Gris.
We couldn't have done it with our talented winemakers, who this year harvested 100 tons of grapes (13 varieties!) which will be made into 85,000 bottles!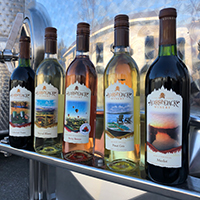 Our success is also driven by our amazing Tasting Room staff, who saw more than 66,000 customers this year. Their knowledge and experience gives customers a fun and interesting experience they can't get anywhere else - and it's part of the reason we are consistently ranked the top attraction in Lake George on LakeGeorge.com, TripAdvisor and more.
I would be remiss not to mention the success of the Adirondack Wine & Food Festival in our wins over the past year. Even with a little rain, a record 6,400 tickets were sold to the premier weekend wine event in the Adirondacks. Join us June 29 & 30, 2019 for this year's festival - we'll have more wine, artisan foods and fun than ever!
I would also like to thank the local businesses and organizations that have helped us accomplish our goals, including Lake George Steamboat Co., The Fun Spot, Waterfront Living, Lake George Bar Crawl, Fort William Henry Resort, Adirondack Brewery, Creations by DM, Lake George Bar Crawl, Adirondack Life Magazine, Country Inn & Suites Queensbury, Regal Cinema Crossgates, Oenophilia, Lake George Olive Oil Co., Martha's Dandee Crème, Lake George Distilling Company, The Log Jam Restaurant, Serendipity Boutique and Bolton Boat Tours.
And finally, THANK YOU for supporting us! Because of you, and your enthusiasm for our wine, we are able to wake up every day and do what we love - making handcrafted wines in the beautiful Adirondacks! Mike and I couldn't be more grateful to have loyal, passionate customers like you! I hope you are as excited as I am for all the adventures - and wine! - that 2019 will bring!
Stay tuned for a lot of exciting news and in the meantime, follow us on social media to stay up to date on Adirondack Winery news, special sales, and more. Cheers!
Facebook | Instagram | Twitter
Comments
Commenting has been turned off.