July 11, 2016 | Adirondack Winery Staff
What Are People Saying About Adirondack Winery?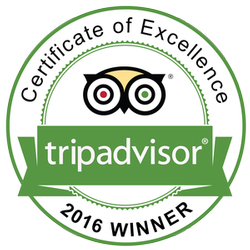 Earlier this summer, TripAdvisor awarded us with another Certificate of Excellence for consistently being rated one of the top attractions in Lake George! We absolutely love hearing about the experiences our customers have at the Tasting Room . . .check out what some of them had to say!
"Great place to spend some time while in Lake George"
"This was the last stop while we were in Lake George. What a great experience we had. The wine was delicious, they have a children's area that kept them playing while we did our tasting, and Charys did an excellent job guiding and helping us through the tasting. This will definitely be part of our future trips here!"
- Tiago S.
"Great stop while celebrating 19th wedding anniversary in Lake George"
"We stopped here before taking in a leisurely stroll through Lake George prior to dinner. We chose to sample 7 wines for only $6. We thought that was a great deal considering you get to keep the glass and were out of the outside heat. The servers were very helpful selecting and explaining each wine before our tasting. After the tasting, they held onto our glasses for us, allowing us to take in the sights of Lake George without having to carry them around. Before leaving, we picked them up, along with the a bottle of Semi-Sweet Riesling and Mellow Blush that we purchased. Great experience!"
- Mike T.
Fun place to stop
"Stayed in Lake George for a couple days with my wife and two daughters ages 7 and 4. The tasting was a lot of fun, staff was very friendly and knowledgeable. They had a kids corner as well which kept our kids busy the entire time. Great timeout for Mom and Dad!"
- Jamie P.
"Best place in town!"
"The Adirondack Winery never fails to impress! We come over every year from New Hampshire for their anniversary celebration and always stop at the tasting room. Today we met Charys. She was a delight! She helped us with our tasting and even managed to convince my husband to buy the last bottle of Barrel Aged Chardonnay. It did not disappoint. I recommend, nay, insist that everyone come try the wine and meet the friendliest staff in town. Love you guys! Keep the wine coming!"
- Jenni S.
"You'll be very surprised! Great wines!"
"Spending the holidays in Lake George was great. Especially discovering this little gem. It was one of the few places open after the New Years...and we're glad it was. Being a 'wine guy' I was thrilled to taste all those wonderful wines. Their variety and pricing is great. We especially loved their Chardonnay. I thought we were in Napa again! Would recommend!"
- Vito L.
"Fantastic selection of wines and a great tasting room"
"I try to visit the tasting room at least once a year, and I'm never disappointed! There are so many wonderful wines to choose from and the tasting room is a lot of fun!"
- Phyllis S.
"Great wine and great staff!"
"I was up to Lake George over the weekend for a vacation, but unfortunately got rained out. So I took a trip to the tasting room. The personnel were great, helping me find the right wine for my palate. I left there with a friend, and also with a case (plus) of some great tasting wines! I highly recommend a stop here!"
- William S.
'Fun way to spend an evening"
"Stopped here before dinner with my Mom, had the cheese plate with local cheeses and chocolate. They were very busy but we did not feel rushed. It was fun to check the place out and we even bought a few bottles to bring home!"
- Lisa L
Want to leave us a review? We would love to hear about your experience at the Tasting Room! Click here to leave a review>>
Comments
Commenting has been turned off.