January 1, 2018 | Wine Award Announcements, Winery Announcements | Sasha Pardy
An Award Winning Year in Review: 2017
Adirondack Winery landed many honors in 2017! We proudly took home over 20 medals at Wine Competitions and our Tasting Rooms earned top honors by Trip Advisor and Lake George.com!
WORLD VALUE WINE CHALLENGE
Each year, we compete in the World Value Wine Challenge, which is dedicated to evaluating wines at the $20 or less price point. We think its important that our wines are not only delicious and of great quality, but that they are also affordable, so this competition is perfect for us! In September 2017, our wines were judged alongside hundreds of other wines from around the world in a blind taste test format.
BACO NOIR Wins GOLD - TOP 10!
At this competition, our Baco Noir (2016 Vintage) was awarded a GOLD Medal, earning 91 points, being labeled "Exceptional" and named as a "Best Buy", ranking it among the TOP 10 Red Wines that are $20 or less at the 2017 World Value Wine Challenge - impressive, we know! This isn't the first time Baco Noir has been recognized as one of our best wines! In the past, it has taken home 2 Double Gold Medals, a Gold American Medal of Excellence Award and other Gold Medals at other competitions.
Here's what the judges had to say about our Baco Noir, "Dusty ruby color. Aromas of caramelized cherries and pear, chocolate, sweet and peppery spices, and tomato on the vine with a silky, racy, dry-yet-fruity medium body and a smooth, delightful, medium-long vanilla cream, pomegranate and blueberry relish, and beets finish with light oak. A wonderfully lively and pure baco noir with great table-friendly structure and sense of place."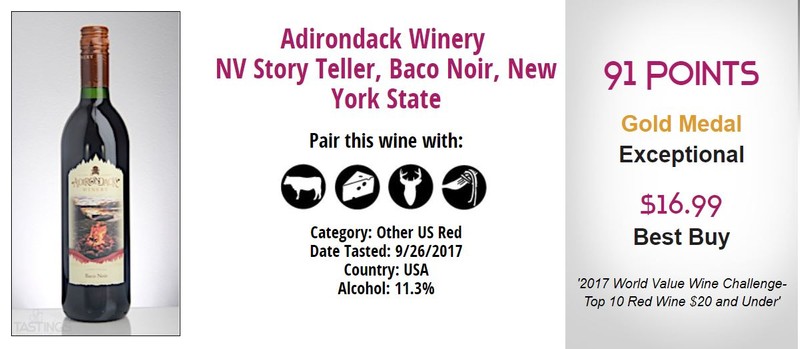 BARREL AGED CHARDONNAY Wins Silver
Barrel Aged Chardonnay has long been my personal favorite of our white wines and at the 2017 World Value Wine Challenge, I am pleased to report the judges agreed with me, wholeheartedly! This dry, buttery, oaky white wine took home a Silver Medal (aka "Highly Recommended"). Here's what the judges had to say: "Brilliant straw color. Creamy, tropical aromas and flavors of caramelized coconut and pineapple and vanilla buttercream with a silky, bright, dry-yet-fruity medium body and a sleek, refreshing, medium-length pickled apple, lemon, honey butter on nuts, and melon rind finish with fine tannins and moderate oak. A rich, buttery, coconut-y chardonnay."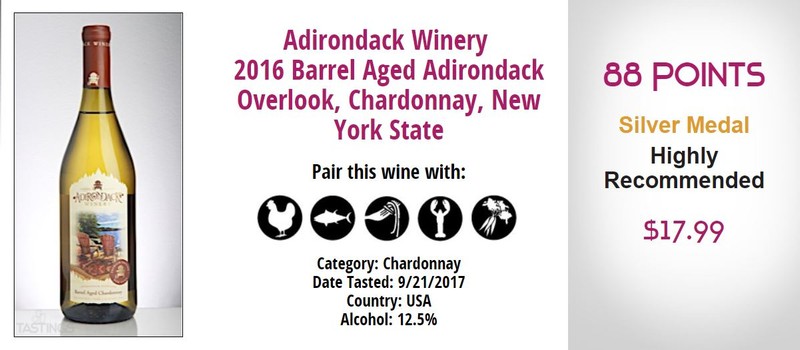 Our Barrel Aged Chardonnay was also recently reviewed by "The Wine Forecaster" (read full review here), dubbed as a "feast for the senses". Check out the video:
---
CRAFT COMPETITION - Gold for Rieslings!

In August 2017, The International Craft Competition honored Adirondack Winery with Gold Medals for our Semi-Dry Riesling and Semi-Sweet Riesling and a Silver Medal for our Dry Riesling. These 2016 Riesling vintage wines were tasted blindly by an expert panel of a dozen sommeliers with years of expertise both in the industry and judging wine.
---
WINEMAKER CHALLENGE
Seyval Blanc Gold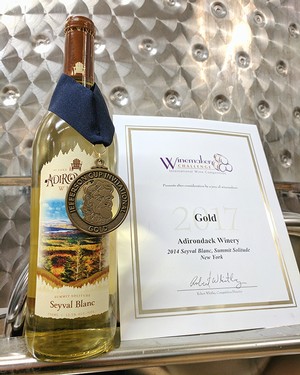 In March 2017, our 2014 Vintage of Seyval Blanc took home a Gold Medal from the Winemaker Challenge and was awarded 91 points by their panel of judges, which is completely made up of other reputable wine makers from around the world.
MORE COMPETITION WINS IN 2017...
At the Big E Northeastern Wine Competition, Silver Medals were awarded to our Lake Winds White, Merlot, Orchard Blossom, and Berry Blush; while our Seyval Blanc took home Bronze.
At the Finger Lakes International Wine Competition, our Pinot Gris and Gewurztraminer took home Bronze medals.
At the Jefferson Cup Invitational, our Baco Noir and Chardonnay earned Silvers, while our Barrel Aged Chardonnay earned Bronze.
At the New World International Wine Competition, our Cabernet Franc and Sauvignon Blanc took home Silver, while our Soaring Strawberry earned Bronze.
At the San Francisco Chronicle Competition, our Baco Noir earned Silver, while our Dry Riesling and Semi-Dry Riesling took home Bronze medals.
---
MORE THAN WINE HONORS!
Adirondack Winery earns more than wine competition medals each year as well!
BEST OF LAKE GEORGE
In 2017, we're proud to say that based on a poll of consumers run by LakeGeorge.com, Adirondack Winery earned the following "Best Of Lake George" rankings:
#1 BEST Indoor Attraction
#1 BEST Wine, Winery or Wine List (8 years in a row!)
#1 BEST Annual Event - Adirondack Wine & Food Festival!
# 2 BEST Shopping spot
---
TRIP ADVISOR CERTIFICATE OF EXCELLENCE
Delivering excellent customer service and create a memorable experience for each and every visitor to our tasting rooms has long been part of the Adirondack Winery Mission & Values Statement. We think our consistent top ranking on TripAdvisor.com as one of the BEST activities to enjoy in the Lake George region solidifies this, as its based on reviews posted by our customers (Thank You, by the way!)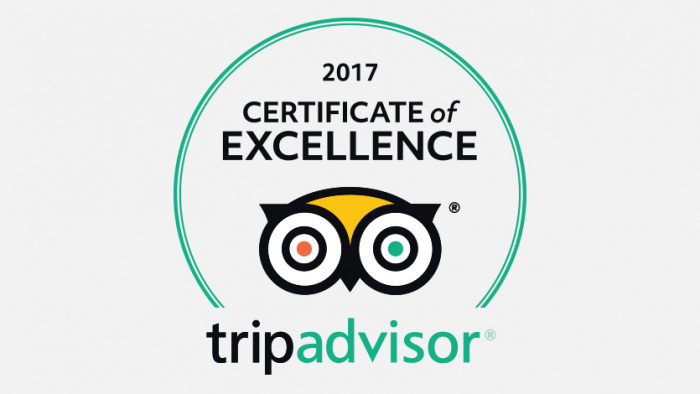 We've earned Trip Advisor's Certificate of Excellence Award since 2012 for our Lake George Tasting Room. The Certificate of Excellence designation recognizes establishments that consistently earn great TripAdvisor reviews from travelers. The winning formula accounts for the quality, quantity and recency of reviews submitted by travelers on TripAdvisor over a 12-month period. To qualify, a business must maintain an overall TripAdvisor bubble rating of at least four out of five, have a minimum number of reviews and must have been listed on TripAdvisor for at least 12 months. We're so thankful we've pleased our customers and hope you continue to review your experiences!
"A taste of the wine country in the mountains"
A lovely surprise in "our ole vacation town", Lake George. I have been visiting for 45 years and nostalgia still overcomes me. This winery just puts it over the top ... excellent! One must go to taste the surprisingly good wine, and the exceptionally friendly Adirondack service!
"Great wine in Lake George"
I had an opportunity to walk the strip in Lake George with my girlfriend and her mother. We were told to stop in to the Adirondack Winery Tasting room, and we're glad we did. The wine was excellent, and the service was even better! We were helped by Matt, who was super fun, very informative, and provided us a great experience. He did a great job explaining the wine (in a way that I could understand, not being a wine drinker) and made it a totally enjoyable experience for our little group. I will be sure to stop back in when I visit next, and really appreciate the service! We had a lot of fun!
"Best Ever!"
This winery tasting room is fantastic and enjoyable! The tasting for two and platter of local cheese, pretzels, jam, crackers and goat cheese was out of the park! The new Sunny Day Pineapple infused was the bomb!

"Warm, relaxed and friendly atmosphere - so much fun!"
Mallory helped us each time we came in - we ended up going two weekends in a row...that should tell you how fun it is at Adirondack Winery! She is friendly, kind and very easygoing. We had a great time each time and ended up leaving with a case, because we found so many we loved! We'll be back soon!
"Fantastic wine tasting in the new Bolton Landing location"
What a great addition to the town! Traci took great care of us and made sure we had an enjoyable visit. We ordered the tasting with the slate plate. Traci explained everything about the wines, the cheese and crackers – which are all produced locally, even the wine infused jam was made locally using their wine! A nice surprise is that they also serve wine slushies! They had a very nice selection of wines to choose from. Put this one on your list of places to visit when in Bolton Landing or in Lake George Village.
"Overall my favorite winery!"
Stopped in on their 9th Anniversary Weekend to do a tasting before we attended their Anniversary Dinner at Fort William Henry. We ordered the cheese plate with our tasting – it was a perfection compliment to the wine! I have been here quite a few times and love the staff, they are all so friendly! I am also a Wine Club and Case Club member, because I enjoy their wines so much! I would definitely recommend stopping in!
"Wonderful Wine!"
Came here twice for tastings this past week. Well worth it to upgrade to the premium glass for an extra $3. Also, go on a Thursday in the summer when you can taste a premium wine for no additional cost! The wine was very good and we bought quite a few bottles. Staff is friendly and fun!
"Looking for a diversion from the daily grind..."
My husband and I decided to take a break from the daily grind and tried to avoid the Lake George traffic areas. That's when we found the Bolton Landing Winery Tasting. I am so glad that we did! When we walked in, Ava greeted us warmly. We told her what we were looking for and she introduced us to Traci. We opted for the "upgraded Wine Tasting for Two." Consisted of 7 wine samples (each), 1 premium wine sample (each), a wine glass (each), locally sourced cheese plate to share. We had an enjoyable time with Traci as she artfully and knowledgeably walked us through our chosen options for the tastings. We like more "sweet" wines and we found wines to our liking. They use New York grapes in their wines. We purchased a few of our favorites and headed off having enjoyed our little escape for a while. Thank you, Ava and Traci, for a fun and light-hearted time! Hope to see you again soon!
We appreciate the feedback and can't wait to deliver another year of great customer service in our 10th Anniversary Year!
Want to leave us a review? We would love to hear about your experience at the Tasting Room! Click here to leave a review>>
---
Thank you for yet another amazing year of wine and good times in Lake George!
Sincerely,
Sasha & Mike Pardy
Comments
Commenting has been turned off.