September 9, 2021 | Behind the Label | Colleen Senglaub
Behind the Label: Barrel Aged Pinot Noir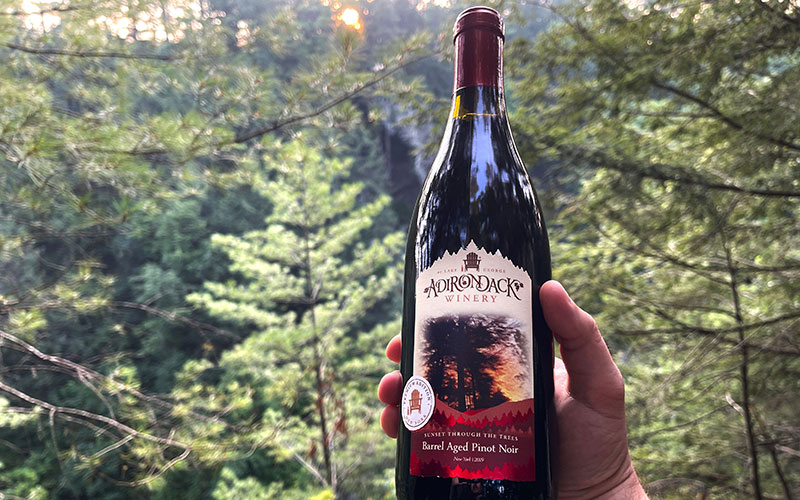 Nothing makes our wine more unique than the stunning label photography on all our bottles. Our wine features shots that transport you to the Adirondacks with every sip. The label on one of our most recent new wines, Barrel Aged Pinot Noir was photographed by none other than our President and Co-Owner, Sasha Pardy.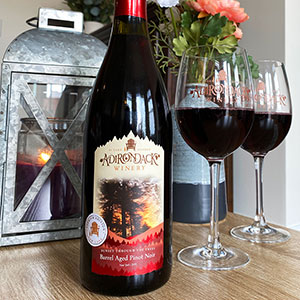 The photo, a gorgeous shot of a sunset through Adirondack pine trees, was taken right in Sasha's backyard near West Mountain. The shot wasn't planned, she just happened to look outside and saw the beautiful golden color of the sky and she knew she had to capture it.
Barrel Aged Pinot Noir was the first of our red wines to feature a brand-new label with bright red foiling and a matching red cap, and the sunset photo complements the new label style perfectly.
The goal of all our labels is to convey the setting where you might enjoy the wine, and the label photo often influences the name of the wine. In this case, the photo inspired the wine to be named "Sunset Through the Trees." The label gives you a warm, woody feeling that aligns perfectly with the oaky, rich taste of Barrel Aged Pinot Noir.
Click here to try this premium edition wine for yourself and check out the video below to hear from Sasha about why the label is special.
Comments
Commenting has been turned off.