November 15, 2018 | Roberto Cruz
Perfect the Art of Thanksgiving Wine Pairings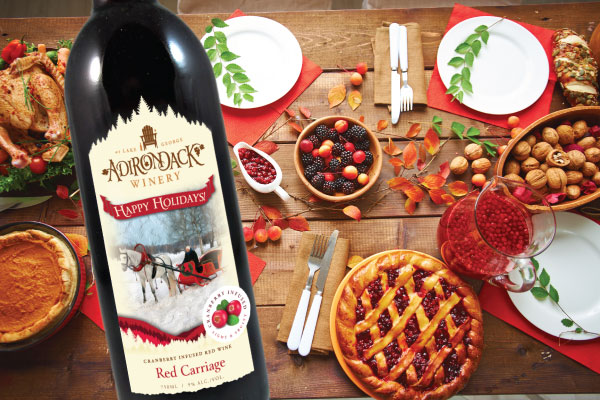 With Thanksgiving only a few days out, it's time to finalize that menu and more importantly, figure out who is bringing the wine!
Of course, you can't rely on Uncle Joe to know what kind of wine pairs perfectly with butternut squash soup, pumpkin pie or the Turkey Day bird, so make things easy for him with this Ultimate Thanksgiving Wine Pairing Guide from the wine experts at Adirondack Winery.
Appetizers
Who says you have to wait until the parade is over before you crack open the wine? Not us. While everyone is ogling over the floats, or perhaps the National Dog Show, you can liven up the party with our famous Mulled Red Carriage recipe, served warm from a crockpot! Check out the recipe here.
If you're more of the wine & cheese sort of crowd (not knocking it!), our Pinot Gris is a light, crisp white wine with apple and honey flavors that pair nicely with strong cheeses.
If you're more of the fill up on finger foods crowd, we suggest the following matchups:
A) Pigs in a Blanket: Semi-Dry Riesling, which works well with pork and the buttery crescent roll.
B) Stuffed Mushrooms: Cabernet Franc, with a pepper perfume and notes of raspberry.
Want to guarantee your wine orders will arrive in time for Thanksgiving? Click here to see our Thanksgiving shipping deadlines.
Soups & Salads
As a rule of thumb, the saltier the broth, the better higher-acidity wines will taste with them. For instance, our unoaked Chardonnay is a versatile wine that will pair nicely with many soups. Plus, for a limited time, it's also available with a special holiday label!
For a lemony broth, try our Lake Winds White, mango-infused semi-sweet white wine, or Drifter, a grapefruit-infused semi-sweet white wine which makes a great match for citrusy flavors.
For a butternut squash soup (see our recipe video above!), pick a wine that will accentuate its autumn flavors, like our earthy Cabernet Sauvignon, which is also available with a holiday label for a limited time!
As far as salad goes, we have plenty of white wines to choose from, including our Seyval Blanc, with green apple and citrus flavors (there are still 2014 Library Wine versions of this one available!). If your salad has a strong cheese like blue cheese, you'll want a white wine that shines through the funk, like our Semi-Dry Riesling, or our medium-bodied, slightly oaky Pinot Noir, if you're a red wine drinker. You could even try our recipes for salad dressings made with our wines: Seyval Blanc Vinaigrette or Orchard Blossom Vinaigrette.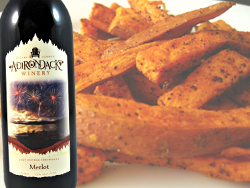 Main Course
Your main objective here is to drink great wine and eat delicious food - but also try not to fill up before dessert! Here are some suggested pairings for the main course:
A) Barrel Aged Chardonnay & Stuffing: Aged in American oak barrels for eight months, this best-seller delivers a toasted oak aroma with tones of fresh thyme, green apple flavors, and butter notes that pair perfectly with peppery stuffing.
B) Merlot & Sweet Potatoes: With a soft a silky texture, our black cherry dry red Merlot brings the flavor to compete with the brown sugar and herbs in sweet potatoes.
C) Riesling & Turkey: When it comes to pairing the bird with some wine, you can't go wrong with any of our Rieslings. Our Dry Riesling offers up tropical flavors and notes of peach, with a clean acidity. Our Semi-Dry Riesling has subtle aromas of apricot, followed by tones of green apple and pear and our Semi-Sweet Riesling is full-bodied and luscious, with aromas of peach and honeysuckle. (You can purchase a holiday gift box with all three for a great price!).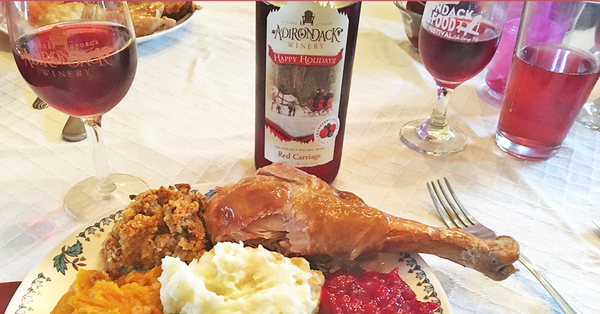 And, of course, you can't go wrong with Red Carriage, which pairs with almost every dish on this list. There's a reason why it's so popular around the holidays! (Don't forget to Tweet us your photos with #adkwinery!)
D) Sunny Day & Ham: If you're a ham fam, try it with our pineapple-infused Vignoles, Sunny Day. If your ham is more of the brown sugar variety, pair it with our Red Ruby, with its candied berry flavors and soft tartness.
Dessert
Now for the real main course: Dessert! The key to pairing wines with dessert is to find a wine that matches the sweetness of the dish. But don't worry, we have you covered!
Our premium red dessert wine, Fireside Reserve, is a sweet option with black cherries and blackberries. Try with a berry dessert or as the dessert itself.
For cheesecake, pair with berry wines like our blackberry-infused red wine, Amethyst Sunset, or our mixed berry-infused white merlot Berry Breeze.
Apple pie lovers can match their favorite dessert with Orchard Blossom, our green apple-infused semi-sweet white wine. (If you were lucky enough to score our apple pie-infused white wine, Home Sweet Home, this is an even more perfect fit!)
And lastly, what would Thanksgiving be without pumpkin pie. Pair it with our Semi-Dry Riesling, which has subtle fruit aromas with a well-balanced acidity that won't overpower this holiday favorite!
Don't miss out these fun and flavorful Thanksgiving wine pairings. Place your holiday wine order before the shipping deadlines for each state below.
What's your favorite Thanksgiving wine & food pairing? Tell us on social media using #adkwinery and send us photos of you enjoying our wine over Thanksgiving Weekend and we'll be sure to share them with the entire #adkwinery family!
From all of us at Adirondack Winery, have a happy and safe Thanksgiving!
Thanksgiving Shipping Deadlines
Make sure you're guaranteed to get your wine in time for all of your holiday celebrations - check out the list below to find your state's shipping deadline!
Wed. 11/14: AZ, ID, CO, GA, ND, NM, NV, OR, SC, WY
Thurs. 11/15: FL, LA, TX, KS, NE
Fri. 11/16: IN, IL, IA, ME, MD, MN, MO, NC, OH, TN, VA, WI, WV
Mon. 11/19: NJ, MA, NH, PA, VT
Tues. 11/20: NY
Click here to visit our Holiday Shop for great deals on holiday wines, gift sets, party packs, gift certificates and so much more!
Comments
Commenting has been turned off.