Seyval Blanc Vinaigrette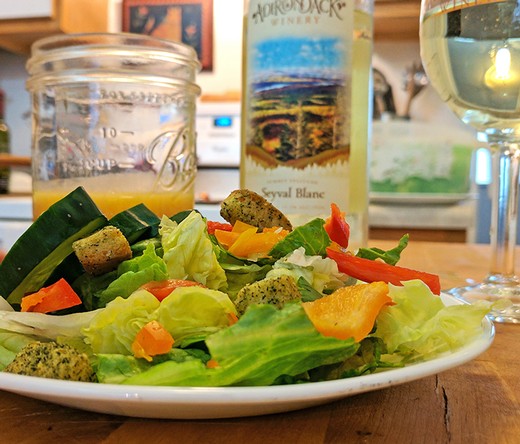 Recipe Date:
January 12, 2015
Measurements:
Imperial (US)
Ingredients
1/4 Red Bell Pepper, Diced
1/4 Red Onion, Diced
1 tsp Salt
1 tbsp Sugar
1/2 tsp Black Pepper
1 tbsp Dijon Mustard
8 ozs Lake George Vinegar
8 ozs Seyval Blanc
8 ozs Lake George Olive Oil
2 tbsps Fresh Parsley, Chopped (optional)
Directions
Combine all ingredients (except olive oil) in a food processor.
Drizzle in olive oil while processing ingredients.
Refrigerate for up to one week, or pour over your favorite summer salad and enjoy!
Bonus: Lake George Olive Oil Co. offers tons of great flavors of olive oil and vinegar. We think their Pomegranate-Quince White Balsamic Vinegar works especially well in this recipe.