February 15, 2018 | Adirondack Winery Staff
Take a look at how it all came together…TEN years ago.
As we count down to our 10th anniversary celebration, we're looking back at the past decade and how Adirondack Winery has evolved through the past 10 years. Check back on this blog each week as we take a trip down memory lane!
---
2009
It's amazing how much can change in a year! Adirondack Winery celebrated its first anniversary and a successful first year in business in 2009. Through all the changes that 2009 brought, one thing became obvious to us: that people really, really liked our wines!
Though we were only a year old, our wines were already beginning to attract attention from customers and connoisseurs alike. One of our values as a company has always been supporting our local area by showcasing the beauty of Lake George through the photography on our labels. I've always designed our labels using my photography with a sense of nostalgia in mind – I want our customers to feel like they're on vacation in the Adirondacks when they drink our wine. In 2009, our "Autumn Brilliance" series of labels caught the eye of judges at the annual New York State Wine Labeling & Packaging Competition, held at the Sonnenberg Gardens & Mansion State Historic Park in Canandaigua – and won second place.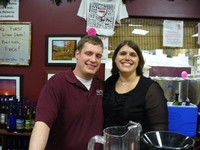 But it wasn't just the labels that were winning awards! Six of our wines earned medals at the 2009 World Value Wine Challenge. The WVWC is held annually by the prestigious Beverage Testing Institute, and is recognized as the nation's most comprehensive competition for wines $20 and under. Since it was our first-ever wine competition, we were flattered to have our wines competing alongside wines from all around the country, and Mike and I were excited when our Chardonnay, Riesling, Red Barn, Pinot Grigio, Barbera, and Fireworks Merlot all brought home medals.
When we began, finding ourselves unable to keep up with customer demand, we made the decision to begin carrying some wines from other New York State wineries. However, we only needed to supplement our offerings through the end of our first season - we were finally making enough wine to keep up with demand! By the time our first anniversary rolled around, there were 31 different types of wine on the shelves, all made by us. In addition to our initial 28 hand-crafted wines, we added Barbera (a full-bodied red), Serene White (a kiwi melon Pinot Grigio), and Berry Blush (a raspberry-infused blush) to our offerings.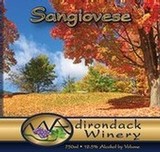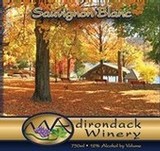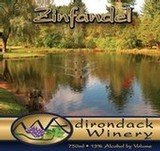 Looking back at our small beginnings, and looking forward to the future and all the potential it held, we knew then that it was time to expand. Mike and I signed a lease for the two back rooms of a 4,000-square-foot warehouse facility on Big Bay Road in November 2009. The building was a warehouse for arcade games, and Mike and his father were busy preparing to begin wine production in the back of the building. It was definitely a step up from making our wines in the back of the tasting room!
With our first year in business under our belt, we were excited to continue offering our loyal customers an unparalleled selection of wine and a true "wine experience" in our tasting room. What did the future hold? Keep watching this blog over the next ten weeks as we reflect on the past decade and the experiences that have shaped us into the winery you know and love today.
---
2008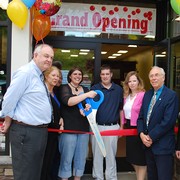 I can't believe we are only 10 weeks away from hitting a landmark for Adirondack Winery - our 10th Anniversary falls on April 17th, 2018 and this year we're celebrating April 13th through 15th with a weekend chock full of festivities! Mike and I are excited to have you join us all weekend long - from events at our Tasting Rooms in Lake George and Bolton Landing to our best yet Five-Course Wine Infused Dinner being held at the Fort William Henry Resort, complemented by a roster of more fun activities from Uncork & Craft to "UnWined Yoga" and more! .
In this Blog, I'll take you for a walk down memory lane with me, as each week I will recall how each year has passed for Adirondack Winery over the last decade!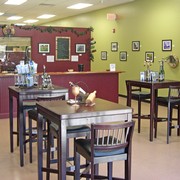 Mike and I developed a love for wine in our early twenties. Being the engineer by trade, Mike took it upon himself to learn the
art of winemaking. With an entrepreneurial spirit and vision for the future of the wine industry in non-traditional settings, we realized opening a micro-winery could be our path in life. So we took that chance and combined our winemaking passion with a love for the Adirondacks, making a home for ourselves in the Lake George area.
We opened our doors in April 2008 as one of the first Micro-Wineries in the country – at the time it was very unusual to have a Winery and Tasting Room NOT attached to a vineyard. Looking back on 2008 now, I can't imagine how we got by with the little space we had, but we did it! Our space at 285 Canada Street featured a tasting bar fit for about 15-20 people max. At the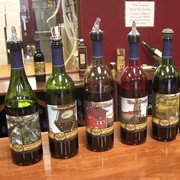 time, we were making our wines in the back of the tasting room using a small-batch method. Customers were able to taste the wine and peek around our dividing wall to see Mike making wine, and you'd find Mike and I behind the bar every day serving customers with the help of just a few part-time staffers.
While we launched with a list of 28 hand-crafted wines of diverse varietals; within a couple months we found ourselves unable to keep up with customer demand; so we started supplementing our supply by tasting and selling other New York State wines. I'm pleased to say that Adirondack Winery quickly became an establishment that resonated with locals and tourists alike, attracting visitors from across the country.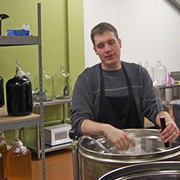 Time sure has flown by and we look forward to another 10 years to come! Check back over the next TEN weeks as we continue this trip down memory lane and reminisce how Adirondack Winery came to be what it is today, ten years later.
Comments
Commenting has been turned off.