April 16, 2017 | About Events, Winery Announcements | Sasha Pardy
Thank You for Nine Great Years!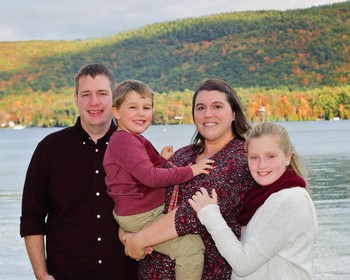 For Mike and I, as the owners of Adirondack Winery, April 17th marks a day of reflection and gratitude. It's a day when we take stock of how fortunate we are to be where we are today and we reflect on how we've arrived here. Sure, the easy answer is, "THE WINE!" – and we know that's the main reason – but it really is a lot more than that. It's making the most of our talents, hard work and dedication to create great wines, build a brand and a successful company for our beloved children (Ella, age 11, and Ethan, age 5); it's the bright and dedicated staff members that have worked tirelessly for Adirondack Winery over the years; and it's the countless members of our community (fellow businesses, vendors, government representatives, members of the media, and non-profits) that have embraced our product and company and supported our efforts over the years. But most of all, it's the customers. It's our loyal club members who are true ambassadors of our wine, it's every single person that has come through our Tasting Room doors in Lake George, or purchased our wine from our website, or visited our booth at a wine festival, or bought our wine in a liquor store… it's even that person who was given our wine as a gift from a friend and shared how delicious they thought it was. Thank You!
So, what exactly has happened over the last nine years at Adirondack Winery? To us, it feels like a whirlwind! Check out our Recap Video here>>
We opened our doors at 285 Canada Street in Lake George on April 17th, 2008 with many nerves, but lots of hope. Mike and I had recently moved to the area with our one-year old daughter, Ella, after saving some money from our careers in real estate and engineering. We always knew we wanted to open our own business, and Mike had been making wine as a hobby over the previous several years. So, after much deliberation, we came to the conclusion that we could open a winery in the Lake George region! We hoped the locals and tourists would take to the idea, and fortunately, it appears we were right!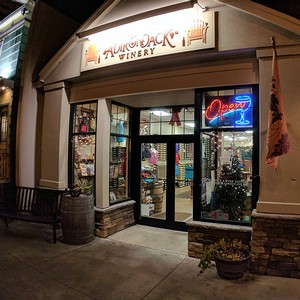 Over our first few years, we were genuinely surprised at how much people embraced our wines, as well as the tasting experience we offered. At that time, Mike made all the wine in the back of our Lake George location. Since our space only allowed for small-scale production, we couldn't keep up with demand, and as a result, we sampled and sold other wines from New York State. It wasn't until 2010 that we were finally making enough that we could fill our shelves with only our wine.
It wasn't long after that, that we were busting at the seams! In 2011, we moved our wine making operations and expanded our tasting room to make way for the hundreds of people that were coming through our doors daily. That same year, we welcomed our Son, Ethan to our family!
We've continued to grow ever since! In 2013, we began building our brand in other areas of New York State. We started going to fun wine festivals across the state, and built up a network of stores and restaurants carrying Adirondack Winery wines. In 2014, we signed up with a distributor, who today, brings our wines to nearly 400 stores and restaurants throughout New York State – and we're proud to say we have become one of their top New York brands!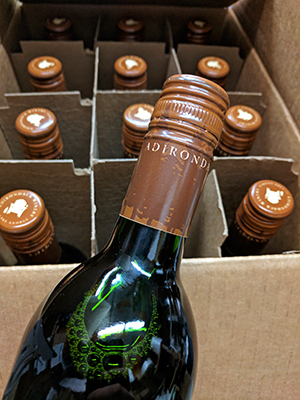 In late 2014, we relaunched Adirondack Winery's image with a new logo, new wine labels, new website, and tasting room renovation. And in 2015, we put on the first ever Adirondack Wine and Food Festival. The event has become a staple for Lake George – we expect more than 6,000 attendees at the event June 24th and 25th of this year! In 2016, we brought in a state-of-the-art bottling line, which has helped us to build efficiencies and has enabled us to transition most of our wines to convenient screw caps!
A lot has changed over the years! Our case and wine club programs have grown year after year with people from all over the country! Back in 2008, it was just Mike and I working behind the bar. Over time, we added a few great associates, and we now employ more than 30 talented staff members! Mike and I rely tremendously on these talented folks to keep the Tasting Room, Wine Making, Events, and Marketing running smoothly. Today, those are the friendly faces you see at our Tasting Room and events, or chat with on the phone!
What's on for the future of Adirondack Winery? It's a bit too early to share some of our plans, but we intend to keep growing, and to continually increase access to our wines all year round, no matter where our customers reside! Keeping with our Mission and Values, you can expect Adirondack Winery to continue to hold the customer experience in the highest regard, to continue improving and evolving our wine list, to stay dedicated to our local community and to the Adirondacks, and most of all, to continue to love what we do! And we LOVE what we do!
Cheers to nine great years, and to many, many more!
- Sasha and Michael Pardy
Comments
Commenting has been turned off.