September 1, 2022 | Hailey Brooks
Thirsty Thursday Trivia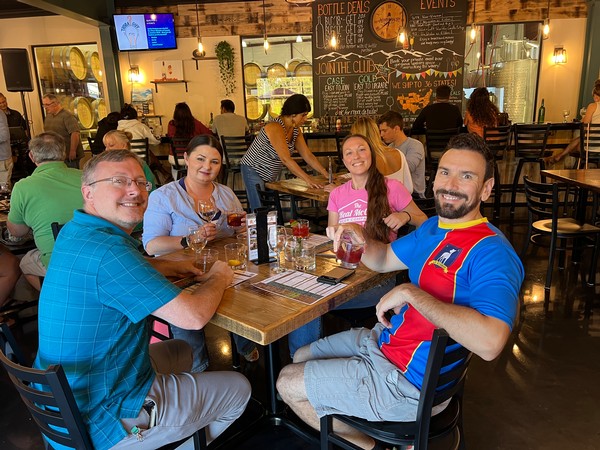 What's better than wine, food, friends, & trivia? Nothing! Every Thursday here at the Adirondack Winery we will be testing you and your friend's knowledge with Thirsty Thursday Trivia! This event will take place at our Queensbury Tasting Room from 6:30 pm-8:30 pm.
Trivia is hosted by That Trivia Guy (total Trivia Professionals!). This is a general knowledge team trivia format consisting of 20 fun questions, including a music round, Price Is Right question, Fast Four round, a picture round, and a Jeopardy-style final wager/question! Answers will be taken through an app on your phone and the game typically takes about 1:45 to 2 hours. So, gather up your smartest crew and get ready to go head-to-head with other teams for the chance to win some amazing prizes!
The prizes include:
• Winning Team walks away with 1 bottle of wine per person (up to 6 ppl, $22 or less wine)
• 2nd place team gets (1) $25 gift card to use on the next visit
• We're even giving away prizes to the leading team at halftime and a random prize to the losing teams!
While you and your crew play trivia you can enjoy some of our delicious charcuterie board options, wine, beer, cider, spirits, wine ice cream, & so much more to keep you and your team fueled for the next round! Click here to check out our full menu of offerings.
You will be seated at one of our rustic wood tables or bars within our gorgeous new tasting room!
Come before trivia begins and hang out on our fabulous patio that has gorgeous Adirondack chairs, fire pits, & yard games. It's the perfect opportunity for you and your crew to "pregame" before trivia!
If you visit our Lake George location on Canada St. you will still be able to participate in Thirsty Thursday Trivia, but it will look a little different at that location. Every Thursday trivia in Lake George will take place all day long. During your tasting, you will be given a sheet with various trivia questions to fill out!
Why wait any longer to secure your spot for trivia, click here to book today!
Comments
Commenting has been turned off.