February 8, 2017 | Adirondack Winery "Survival Kits", Seasonal Favorites | Adirondack Winery Staff
Valentine's Day Survival Kit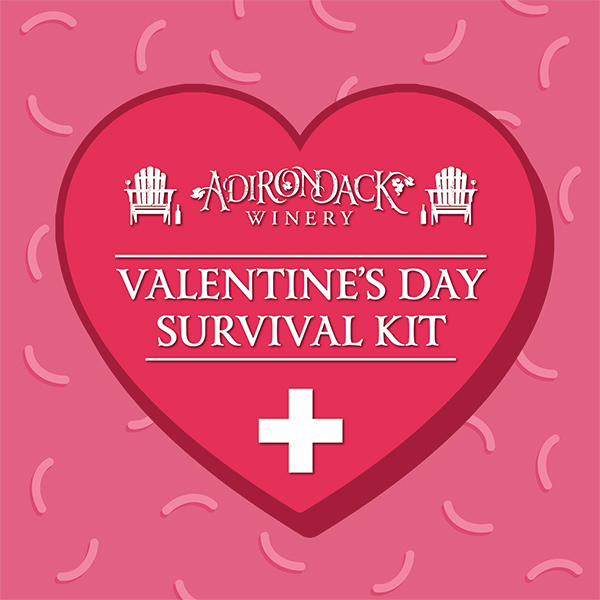 Planning the perfect Valentine's Day can be tough, but Adirondack Winery is here to help! Whether you're looking for the perfect gift, a date night out or cozy night in, we have you covered – and just in the nick of time! From wine and gifts to tastings and special events, we'll help you find the perfect way to celebrate with your special someone!
Perfect Gift?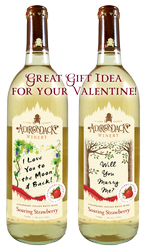 Give the Gift of wine with a Personal Touch to your special valentine!
Our Best Selling Fruit-Infused wine, Soaring Strawberry, our best selling red, Pinot Noir, and our best selling white, Pinot Gris, are available with Personalized Label options.
Just buy the wine Online, OR, pick it up at our Lake George Tasting Room and either have us, or hand-write your own personalized love note on the wine label!
Your significant other is SURE to be impressed with your thoughtful, unique gift!
*Order ASAP for Valentine's Day Delivery!
Give the Gift of a pair of tickets to one of our upcoming special events for some quality time with your Sweetheart!
February 17th, Sketch Design Lounge returns for our next Uncork & Craft, where you'll sip on some wine and paint your very own wooden wine sign with your favorite wine saying! Does your Valentine have a sweet tooth?
On February 24th, we're hosting an extra special Wine 101 where you'll learn the ins and outs of pairing wine with sweets! We'll guide you through a one-of-a-kind tasting flight with cheesecake and cookies from Candi's Creative Sweets paired perfectly with our wine!
Bring your Valentine to Adirondack Winery!
Enjoy a fun date night at our next Wine 101 or Uncork & Craft, plan a weekend away for one of our upcoming events, or just stop in for a wine tasting!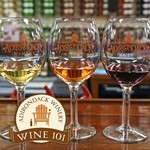 Celebrate a little early at our next Wine 101 this Friday Feb 8th and explore the world of wine blending! Our owner, Sasha, will introduce you to the basics and walk you through some popular and traditional blends. Then you'll get to experiment with making some of your own blends!
You'll leave feeling like a wine blending pro, with a fun new way to enjoy your wine at home! Learn more about wine blending here>>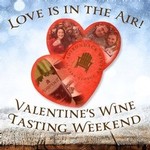 Come to Lake George for our annual "Love Is In The Air!" Valentine's Weekend! Cozy up at the tasting bar and enjoy a special "True Love" wine tasting session with eight wine samples, our "Cupid's Connoisseur Plate", specialty wine cocktail and more!
We'll greet you with a signature wine cocktail and a chocolate kiss...after all, what's Valentine's Day without something sweet?!
---
Staying in?
We can help you plan the perfect wine dinner!
Let's start with what to eat. If you're need of a little inspiration, visit our wine-infused recipes page. We've collected some of our favorite apps, snacks, desserts and dinners – all made with a little wine!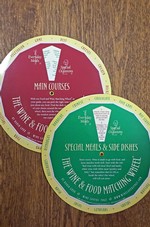 Once you've planned your menu, pick up a wine & food pairing wheel to find the perfect wine to pair.
On to the wine! With over 30 types of wine to choose from, we definitely have something for every taste! Our top three favorites for a Valentine's Day dinner are Pinot Noir, Chardonnay and Cabernet Franc Rosé, but take a look at what's in stock and pick your favorites!
Finally, finish the night with something sweet like a batch of wine infused hot chocolate.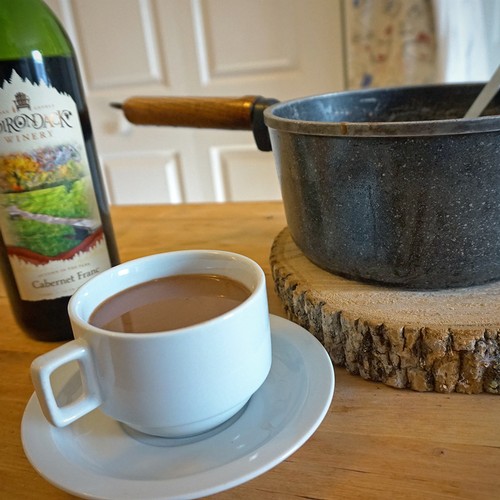 Happy Valentine's Day from Adirondack Winery!
Comments