January 28, 2021 | Angelina Groccia
Valentine's Day Wine & Food Pairing Guide

The Ultimate Valentine's Day Pairing Guide
Valentine's Day is one of the most romantic days of the year, but it would not be complete without an evening of wine, chocolates, and other endless pairings! Although wine is an exceptional drink on its own, the flavor profile of a wine can be enhanced with the right food pairing!
Follow this guide as we escort you through the process and better acquaint you with some pairing basics for your Valentine's Day date night.
---
Wine and Chocolate: An Intimate Pairing

Milk Chocolate
When finding the perfect wine to pair with milk chocolate, a wine that is slightly sweeter than the chocolate will be more successful. Each element of this pairing brings their own level of intensity so allowing the chocolate to dominate the wine will better suite this partnership.
You also want to opt for a similar style and weight! When pairing wine and chocolate, you should strive to match lighter, more elegant chocolates with light bodied wines; the same holds true for stronger chocolates and full-bodied wines.
Suggested Pairings: Merlot, Rieslings and Fruit-Infused Wines
Dark Chocolate
The bitterness of a luxurious dark chocolate is delicately complimented by a more defined, full-bodied wine. This pairing enhances the bold flavors of the wine while bringing the charming, bittersweet sensation from the chocolate to the forefront. When looking for a great red to marry well with a dark chocolate, a notable tip is to choose a red wine with some residual sugar to subtly compliment the chocolate's intensity.
Suggested Pairings: Cabernet Sauvignon & Pinot Noir
---
Wine and Cheese: A Delicious Endeavor

Wine and cheese are two of life's greatest culinary treasures, and pairing them together can be a work of art. There are a few things to considering when pairing wines and cheeses including texture, fat, and acidity. To start you off, it is wise to pair the two with their intensity counterparts. Wines under 12% alcohol content are less intense and match beautifully with more delicately flavored cheeses.
Suggested Pairing: Gruyere and Pinot Noir
Young, fresh soft cheeses pair well with an aromatic white, such as Riesling, and semisoft cheeses should be eaten with a medium-bodied white wine such as Chardonnay.
Suggested Pairing: Brie and Chardonnay
If you are attempting to pair your wine with an aged cheese, a nice bold red would be desirable. As cheese ages, it becomes more rich in flavor and develops an increased fat content. The high fat in the cheese counteracts with the high tannins in the red wine to make an unforgettable match made.
Suggested Pairing: Cheddar and Baco Noir
---
Wine and Dinner: An Elegant Affair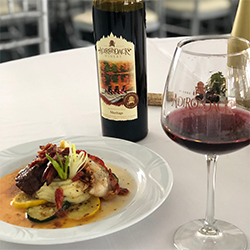 Many people pour a glass of wine with their dinner, but are they strategically pairing the right wine with the delicious meal that they have just made? This can be an arduous task, so allow us to help.
Red Wines pair especially well with beef or steak dishes. Some common, and exceptionally delicious, pairings are Cabernet Sauvignon and red meat or roasted lamb, Merlot and roasted chicken, or Pinot Noir with a light appetizer salad.
Sweet Wines pair best with light meats and sweet sauces. If you are feeling adventurous, or prefer to eat more authentic cuisine, Gewurtraminer and dim sum create a beautiful balance of spice and subtle sweetness. You can also opt for a Semi-Sweet Riesling alongside your favorite pad thai dish.
White Wines are best to drink with poultry and fish. Any subtle dish with chicken as it's main course will go great with either a Chardonnay or Semi-Dry Riesling. However, a dinner consisting of fish that are fuller and more rich, such as shrimp, crab or lobster, are best to be paired with a Dry Riesling. A lighter fish should accompany a lighter white wine as a good rule of thumb.
---
With Valentine's Day plans looking different this year, staying in and cooking for yourself is more desirable than ever. This doesn't mean that you should miss the excellent wine pairings that you would normally experience at a fancy restaurant! Now, you can do it yourself.
We hope that you have found this guide to be helpful in assisting you plan the perfect Valentine's Day date night, and all future date nights to come. With this pairing guide you are now ready to explore all of the wonderful wine & food pairings your heart desires, while maintaining best practices in matching flavor, acidity, and sweetness. Happy Valentine's Day to all!
Comments
Commenting has been turned off.