August 16, 2018 | Wine Award Announcements | Vicky Seabury
You Can't Spell "Wine" Without "Win"!
Every year, we send our wines to competitions all across the country in hopes of sharing our love of the Adirondacks and fine wine. Some of our wines even compete against wines from around the world in international competitions! We hope that our passion for wine is apparent in every sip. We have continued to earn medals and recognition throughout 2018, and we're proud to share those results with you!
Most recently, our wines received five medals at the annual 2018 Big E Northeast Gold Wine Competition! Our Pinot Gris earned a double gold, and Sunny Day and our NY Pinot Noir each took home silver!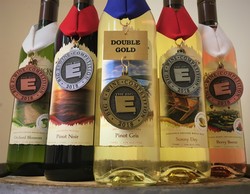 Earlier this summer, our NY Cabernet Franc took home a gold medal - and scored 90 points! - from the annual Critics Challenge International Wine & Spirits Competiton. Our New York wines also received several other medals this year, with Cabernet Sauvignon receiving silver at the Taster's Guild International Wine Competition, and Merlot taking home silver from the 2018 Winemaker Challenge International Wine Competition. Our unoaked Chardonnay also won silver in the Tastings World Wine Championships.
2018 is far from over, and we're looking forward to submitting wines to other competitions in the coming months! Keep your eyes peeled for more award updates and medal recaps. Cheers!
Comments
Commenting has been turned off.