July 6, 2018 | Vicky Seabury
Cheers to World Chocolate Day!
Here at Adirondack Winery, we love pairing wines with everything from appetizers to desserts - but our favorite thing to pair with a glass of wine is chocolate! Tomorrow, July 7th, is World Chocolate Day, so we're celebrating with some of our favorite wine and chocolate pairings. Read on for our suggestions!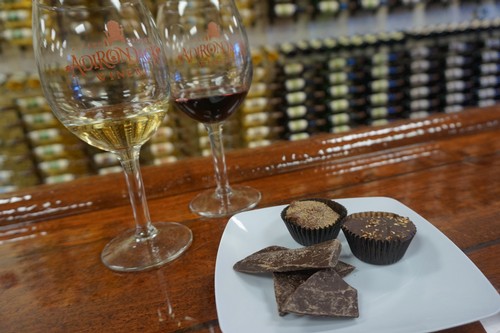 White Chocolate: Pair white chocolate with lighter wines such as whites or rosés. White chocolate has more subtle, delicate flavors that are complemented by the bright, crisp white wines and semi-sweet rosés.
Our Favorite Pairings:
Gewurztraminer: semi-dry, aromatic, slightly tart
Berry Breeze - mixed berry-infused rosé; semi-sweet and fruity
Semi-Sweet Riesling - full-bodied, juicy, just enough sweetness
Milk Chocolate: Milk chocolate goes well with medium-bodied reds. Like milk chocolate, these wines have just the right amount of sweetness.
Our Favorite Pairings:
Red Ruby: semi-sweet, flavorful red blend of 3 varieties of New York grapes
Pinot Noir: a fruit-forward, well-balanced dry red
Wild Red: a black cherry-infused, slightly sweet red wine
Dark Chocolate: Choose a full-bodied red to pair with dark chocolate. Both dark chocolate and deep-colored wines have higher amounts of tannins, which make them a perfect match.
Our Favorite Pairings:
Cabernet Sauvignon: Aged in American oak barrels; dry, but balanced and flavorful.
Merlot: Another dry red aged in oak barrels; earthy; full-bodied
Baco Noir: just the right balance of oak, tannin and light acidity; fruit-forward
Bittersweet Chocolate (extra dark - 70% or higher cacao): Bittersweet chocolate goes best with big, bold flavors, like the strong sweetness of dessert wines and aged reds.
Our Favorite Pairings:
The Good Life: cherry-chocolate infused port style; medium-sweet finish
Syrah: 2013 vintage; silky, smooth
Adirondack Splendor: premium barrel-aged, port style wine; decadent and sweet
Comments
Commenting has been turned off.