February 18, 2019 | Adirondack Winery Staff
A Look Back at the Past 11 Years at Adirondack Winery!

As we count down to our 11th-anniversary celebration, we're looking back at the past decade and how Adirondack Winery has evolved through the past 10 years. Check back on this blog each week as we take a trip down memory lane!
---
2018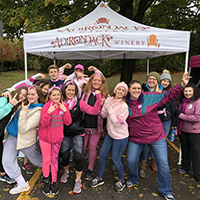 2018 was our 10th year in business and we couldn't be more proud of how it turned out! Among our many victories were our biggest year of Drink Pink fundraising ever, several Gold and Double Gold Medal wine competition wins and the launch of a new holiday wine - Home Sweet Home!
We continued fruitful partnerships with local organizations like Big Brothers Big Sisters of the Southern Adirondacks, the Adirondack Thunder, LARAC, Lake George Jazz Festival, the Adirondack Balloon Festival and so much more.
<< TICKETS ARE ON SALE FOR OUR 11TH ANNIVERSARY WINE DINNER! CLUB MEMBERS GET 2 TIX FOR JUST $58! ($75 per person after that!) >>

With the help of our customers and supporters, we raised a record $8,000 for Making Strides Against Breast Cancer of the Southern Adirondacks. It was our biggest Drink Pink fundraiser ever, and it culminated with a group march around the City of Glens Falls - of which we were the lead corporate sponsor of the Making Strides 3K for the second year in a row!
We were also excited to introduce a few new wines in 2018, including Home Sweet Home, an apple pie infused white wine. The wine was a huge hit -- selling out in just a few weeks! Others included our grapefruit infused Drifter and the deliciously sweet Vidal Blanc dessert wine.
Watch the video below for the full 2018 recap.
2017
After nine successful years in business, it was time to make something big happen – something that we'd always wanted…We opened our second tasting room in Bolton Landing in 2017! We had been looking for space in Bolton Landing since late 2015 - the business owners in Bolton Landing are all very supportive of each other and the visitors and residents have a deep love for this little town. Fortunately, we found the perfect spot right in the heart of Bolton Landing – on Lake Shore Drive, close to the entrance of the Sagamore Resort. The new location, between Palazzo's Pizzeria and Bob's Ice Cream and right across the street from Tops Market, was the perfect size. After months of planning and hard work, we held a Grand Opening Event featuring free tastings, food samples, and a raffle basket on July 26th!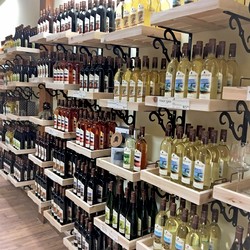 With the opening of our Bolton Landing tasting room, we decided to move forward with a New York way of business! We had long been working to transition all our wines to New York wines made from New York grapes, so in 2017, our Tasting Rooms in both Lake George and Bolton Landing began tasting and selling ONLY our New York Wines. We had a number of new New York wines lined up for release – everything from new fruit-infused varietals to new dry reds and more! Our first new New York release was our Adirondack Sangria, which was a huge hit!
We added to our collection of medals in 2017! Sixteen Adirondack Winery wines took home a total of 20 medals from 8 different competitions. At the annual World Value Wine Challenge, our Baco Noir earned 91 points and was awarded a Gold medal. Judges labeled Baco Noir as "Exceptional" and a "Best Buy" - ranking it among the TOP 10 Red Wines that are $20 or less! Our Barrel Aged Chardonnay also took home a silver medal from the World Value Wine Challenge.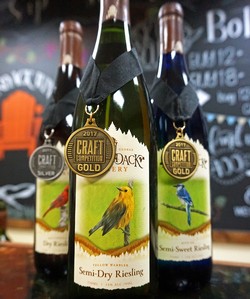 But Baco Noir and Barrel Aged Chardonnay weren't the only wines to win big in 2017. All three of the wines in our Riesling Trio took home medals from the International Craft Competition. Our Semi-Dry Riesling and Semi-Sweet Riesling were awarded gold medals, and our Dry Riesling took home a silver medal. Seyval Blanc took home a gold medal and was awarded 91 points at the Winemaker Challenge International Wine Competition in 2017. In addition, our Lake Winds White, Orchard Blossom, Soaring Strawberry, Berry Blush, Pinot Gris, Gewurztraminer, Chardonnay, Sauvignon Blanc, Cabernet Franc, and Merlot all won silver or bronze medals at various other wine competitions during the year.
Thanks to our always-loyal customers, Adirondack Winery continued to receive recognition as "Best Of Lake George" rankings in 2017. We won #1 Best Indoor Attraction, #1 Best Wine, Winery or Wine List for the eighth year in a row, # 2 Best Shopping Spot, and #1 BEST Annual Event for the Adirondack Wine & Food Festival, which in 2017 was only in its 3rd year! Our Lake George Tasting Room also received the Trip Advisor Certificate of Excellence Award for the 6th year in a row! The Certificate of Excellence designation recognizes establishments that consistently earn great TripAdvisor reviews from travelers.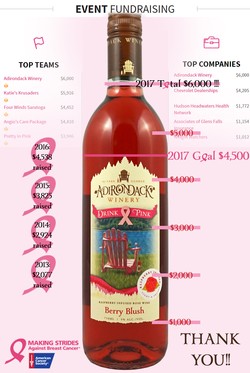 We also held our fifth annual Drink Pink fundraising event in 2017, and we raised a total of $6,000 for Making Strides Against Breast Cancer of the Adirondacks! 2017 was our biggest year yet, and we beat our goal by $1,500! We were honored to be the top fundraising company and fundraising team for 2017 and do our part to help Making Strides fund research, provide free information and support services, and help detect breast cancer earlier when it's easiest to treat.
Can you believe how fast the last decade has gone by? 2018 will mark our 10th anniversary and we have plenty to celebrate! What will the next year, or even the next ten years, hold? One thing is for sure – we're SO grateful for all of the support from customers, employees, business counterparts, family, and friends over the past decade – and you can expect us to continue to grow! Mike and I sincerely thank everyone so much for 10 amazing years. Cheers to you for making these past ten years so memorable!
---
2016
Cheers to 8 years! We definitely had plenty to celebrate during Adirondack Winery's 8th anniversary party in 2016. With the success of the first-ever Adirondack Wine & Food Festival under our belts, we were excited to see what 2016 would bring! As always, we had plenty of new ventures planned for the year.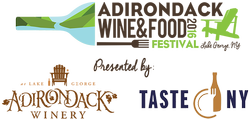 The inaugural Adirondack Wine & Food Festival in 2015 had a huge potential to shine a spotlight on our region and the countless successful small businesses in the area – so we were thrilled when our 2nd festival was designated as an official Taste New York event! This designation included generous support from New York State's "Taste New York" program in the form of a $63,000 grant. The funding came from the governor's Craft Beverage Marketing and Promotion Grant Program, which was created to increase the awareness and sales of NYS-produced wine, beer, spirits, and hard cider. The Warren County Occupancy Tax Committee and Village and Town of Lake George awarded funding to our event as well due to the size of the crowds that the festival was expected to draw in its second year based on how successful it had been in 2015. In an effort to make our second year even bigger and better, we added more vendors – we had more than 50! – and as a result, festival ticket sales more than doubled to over 5,200!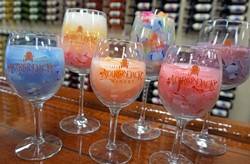 The Adirondack Wine & Food Festival was an exciting way to branch out, but we also wanted to focus on what fun and innovative new experiences we could bring to our customers inside our tasting room. Since we opened our doors in 2008, Adirondack Winery had been open year-round. Summertime was usually busy for us, but we also wanted to offer our customers fun activities they could take part in even when the village was a little quieter. We launched our Wine 101 and Uncork & Craft series with this in mind. Wine 101 workshops are all about wine education in a fun setting, and Uncork & Craft events encourage our customers to tap into their creative side while sipping on a flight of wine. For Uncork & Craft, we partnered with local businesses like Sketch Design Lounge and Wax 'n' Wix, whose wine glass candle workshop has been one of our most popular Uncork & Craft events to date.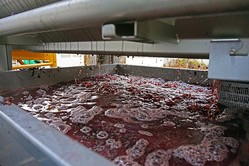 We were also working hard on making improvements behind the scenes. In 2016, we expanded our winemaking capabilities by bringing in some new equipment! We added three new 1,000-gallon tanks, a grape de-stemmer, a grape press, new oak barrels, and a state-of-the-art bottling line - with an automatic labeler and the ability to use both screw caps and corks! - to our winemaking facility in Queensbury. We put all of our new equipment to use during our busy harvest season – we brought in nine different kinds of grapes to make eight different wines!
Speaking of wine…2016 was a big year for Adirondack Winery at wine competitions! Our 2013 vintage of Meritage earned a platinum medal and score of 95 points at 2016 Critics Challenge International Wine & Spirits competition. The panel of judges included 16 wine writers, bloggers, and sommeliers, and our Meritage was judged alongside more than 1,300 wines from 14 countries. Only 5% of all wines submitted received a platinum medal! In order to use the name of Meritage, we had to obtain a license from the National Meritage Alliance and follow specific guidelines when it came to crafting the wine, so we were excited to receive top honors for this special wine!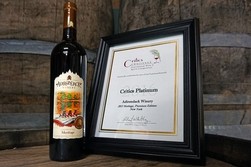 Baco Noir was also a big winner at wine competitions in 2016. At the NY World Wine & Spirits Competition, Baco Noir earned 1 of only 24 Double Gold medals given out. Ours was the only New York wine to rank among the top medal earners. Later in 2016, our wines were judged against 79 other wines from 19 Hudson Valley Region Wineries at the Hudson Valley Wine & Spirits competition. Our Baco Noir earned the top medal in its category, earning 1 of only 4 Double Gold medals awarded at the competition.
Another successful Adirondack Wine & Food Festival, award-winning wines, and fun new tasting room experiences for our guests…2016 was certainly busy and rewarding! How could we possibly top that in 2017…?
---
2015
For a small, family-owned business, every successful year is a milestone. Adirondack Winery had grown in new and exciting ways every year, from our small beginnings in 2008 to our 7th anniversary in 2015. Each anniversary that passed was a celebration of how far we had come, and a chance to look ahead to how far we could still go!
By 2015, Adirondack Winery had been to over 30 wine festivals across New York State since beginning to attend offsite events two years earlier. Attending festivals and events had proven to be an excellent way to create exponential exposure for our brand, demand for our wine, and encourage thousands of people to visit the Lake George region and our tasting room. Our wine was reaching more people and more locations than ever before. Mike and I wondered: how could we bring the excitement of a festival to our region? Why not host our own festival right here in Lake George?
The inaugural Adirondack Wine & Food Festival in 2015 was the very first event of its kind in Warren County. The event took place in the beautiful new space at the Lake George Festival Commons, and more than 35 wineries, breweries, distilleries, and gourmet food vendors from as far away as the Finger Lakes and Thousand Islands brought their products to the festival for attendees to sample in a farmers' market, try-before-you-buy style event. We designed the festival to shine a spotlight on small family businesses - just like ours! - across the state, reminding festivalgoers to support local!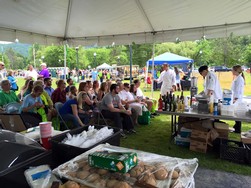 Since part of Adirondack Winery's mission includes supporting local charities and organizations, when we began the Adirondack Wine & Food Festival, we decided to designate an official beneficiary each year and donate a portion of the proceeds from ticket sales to that cause. The SUNY Adirondack Foundation was our beneficiary in 2015, and students from SUNY Adirondack volunteered at the festival and participated in cooking demonstrations held in a featured Culinary Tent.
Thanks to support from the Warren County Tourism Department, Mayor Blais, the village of Lake George, the town of Lake George, and an ever-growing list of local businesses, the annual Adirondack Wine & Food Festival has become a Lake George staple since its inception in 2015. We had nearly 2,500 attendees in the festival's first year, and just last year, at our 3rd festival, we had close to 6,000 attendees. This year's event, to be held on June 23rd and 24th, will be our biggest and best yet, featuring over 80 wineries, breweries, distilleries, cideries, artisan food vendors, food trucks, and more!
In addition to the huge success of our first wine and food festival, 2015 was also a great year for our wines! Adirondack Winery won New York Riesling Winery of the Year and our Semi-Dry Riesling won a gold medal at the 2015 New York International Wine Competition. Our wine was judged against almost 1,000 submissions from wineries in the US and 30 countries around the world. This event was the first major international wine competition featuring trade-only judges, consisting of buyers from top retail stores, sommeliers, restaurant owners, hotel beverage directors, distributors, and importers. At this competition, judges only granted wines an award if they feel they would import, distribute, buy, or sell the wine at their own place of business, and only 30% of wines submitted received any medal at all. We were thrilled that both our wine and the winery itself received high accolades at such a tough competition!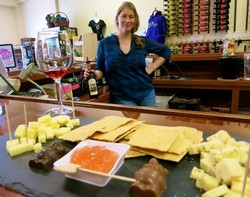 We also received recognition from several notable travel websites in 2015. Adirondack Winery was featured in an article on Huffington Post discussing the top 20 things to do in NYS's famed resort towns like Lake George, and we were mentioned in blogs on Tourist-Destinations.com and travelroads.com. 2015 truly was an amazing year – we were spreading our love of the Adirondacks and good wine farther than ever before, while still keeping our focus local with the inaugural Adirondack Wine & Food Festival. We were ready to take on 2016 and continue sharing our passion in as many new and exciting ways as possible!
---
2014
2014 was a year that was all about accomplishing goals that had been a long time in the making! In January, we closed on the real estate purchase of our winemaking facility in Queensbury that we had been leasing since late 2009. We also debuted a new look for our wines – one that we had been working on for nearly a year!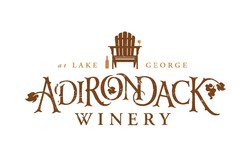 In 2014, the Adirondack Winery brand underwent its biggest transformation yet. We partnered with A3 Design to create a new logo, website, and beautiful new wine labels. The new logo had a modern Adirondack feel, and suggested the mood of an afternoon taking in the beauty of the Adirondacks while relaxing with a glass of our wine in an Adirondack chair. The new label featured a special die-cut outline, heavy stock paper, foil logos, and a scale to indicate the wine's level of sweetness.
Most importantly, the new labels and branding incorporated artwork versions of the gorgeous landscapes and landmarks of the Lake George region. Since our photographic labels have always been our trademark, making our brand stand out from other wineries and serving as souvenirs for our customers, we wanted to ensure that our new branding stayed true to our vision for the winery and kept a spotlight on the beauty of the Adirondack region. With the launch of the redesigned labels, we felt that the look and feel of the bottles clearly matched the quality within.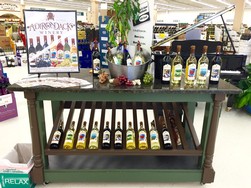 Since the winery opened in 2008, we had grown in big ways every year, and 2014 was no exception. Having our tasting room in Lake George meant that we met a lot of tourists and visitors from out of the area, and many of those customers only had access to our wines when they were in town. The demand for our wines was growing – especially in the wholesale marketplace – as more and more customers were introduced to our wines at offsite festivals across the state. So, in 2014, we partnered with Opici Family Distributing so that customers that fell in love with our wines at our Tasting Room or offsite festivals would be able to find our wines in stores near them year-round. While working with Opici, we increased our wholesale distribution from 40 liquors stores concentrated mainly in the Capital Region to more than 150 stores across New York State by the end of 2014. (As of 2018, we've expanded our distribution to nearly 400 stores and restaurants throughout New York!)
In July 2014, we were honored to receive recognition from TripAdvisor's vacation blog FlipKey.com as the top winery worth traveling to in New York State! We had received TripAdvisor's Certificate of Excellence several years in a row, but we were flattered to receive the additional accolades from Flipkey.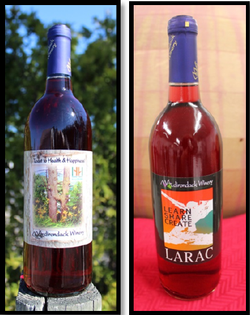 In 2014, we continued our mission to encourage our community to "Think Local, Drink Local" with our newest initiative to raise funds for local charities. Following the success of 2013's release of our Musical Medley wine to benefit the Lake George Community Band, we decided to up the ante and create a new wine that would benefit not one, but two great local charities. We produced over 1,000 bottles of a special edition, raspberry-infused Pinot Noir with two different labels: one representing LARAC – "Learn, Share, Create" - and one showcasing Double H Ranch, with a "Toast to Health and Happiness." We donated $6 from the sale of each bottle to the corresponding charity represented on the label.
2014 saw Adirondack Winery debut a new look and expand in a new direction. How could we possibly top such an amazing year? We had big plans for 2015…
---
2013
So much can happen in a year – and 2013 was proof of that! In addition to celebrating Adirondack Winery's 5th anniversary, we began building our brand in new and exciting areas, traveling to wine festivals across NYS, and building up a network of stores and restaurants carrying our wine. 2013 was also a big year for promoting our fundraising efforts for charitable causes.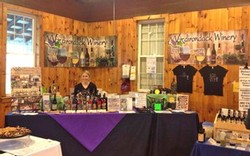 In May 2013, our events manager began the process of planning and facilitating Adirondack Winery's presence at wine festivals across New York State, creating exponential exposure for our brand, demand for our wine, and encouraging thousands of people to visit the Lake George region and our tasting room. Tens of thousands of festival attendees could taste and buy our wines, allowing us to introduce our wine to more people and places than ever before.
We continued to expand our participation in events and experiences designed to increase public awareness and support of the local wine and grape industry. In 2013, we participated in the brand-new Upper Hudson Valley Wine Trail, which brought together the family‐owned wineries of New York's Warren, Saratoga and Washington Counties. We were one of 12 members of the Upper Hudson Valley Wine Trail, which stretches from Lake George to Saratoga Springs and Easton, NY, and includes farm vineyards, locally‐owned wineries and tasting rooms, and satellite tasting rooms of two Finger Lakes' wineries.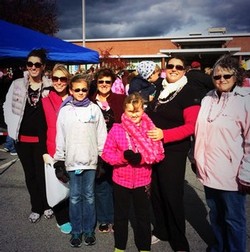 Our previous fundraising efforts to raise money for local causes had proven to be successful, so in 2013 we were determined to continue with our mission to give back to our community. We paired up with the American Cancer Society's Warren County Chapter of Making Strides Against Breast Cancer and formed a team to participate in the Making Strides fundraising walk in 2013. But that wasn't all! We launched a limited edition "Drink Pink" blush wine, which we sold online and in the Tasting Room during the month of October, and a portion of the proceeds from the sales of each bottle was donated to Making Strides. Through this campaign and other events held during October, we raised a total of $2,077.84 for Making Strides in 2013!
A new year also meant exciting new wines. We debuted two new wine series in 2013. First was our Jewel series, designed as the perfect wines to enjoy during fun times with your friends - the precious jewels in your life! The Jewel series included Pink Gem, Red Ruby, and White Diamond – which won silver at the prestigious New York State Fair Commercial Wine Competition. (White Diamond and Pink Gem have since been discontinued, but you can still enjoy our Red Ruby!) We also released our Wine Maker Series - the wines our wine maker loves to craft and enjoy himself! - beginning with a Seyval Blanc and a Baco Noir. Our Seyval Blanc won a gold medal at the State Fair competition – it was the only winery to win gold for a Seyval Blanc!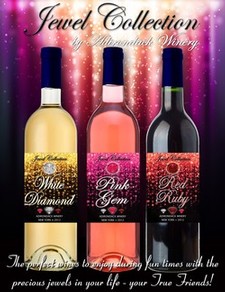 Amidst our expansion into other areas of the state, our Lake George Tasting Room remained a popular destination and favorite local spot. We again received TripAdvisor's Certificate of Excellence, and we were honored to win Best Wine, Best Shopping for Gifts, and 2nd place in the Overall Best Shopping and Best Shopping for Souvenirs categories in LakeGeorge.com's annual Best of Lake George survey. As always, we were grateful for our customers for sharing the Adirondack Winery love!
As 2013 drew to a close, we were looking ahead and dreaming big, as always. Just as in years before, we were sure 2014 would be an exciting, fun, and busy year!
---
2012
Who knew four years could fly by so fast? 2012 marked the arrival of Adirondack Winery's 4th anniversary. A lot had changed since we opened way back in 2008: we had renovated and expanded our Tasting Room and tasting bar; our wines won dozens of medals at competitions; we relocated our winemaking operation to accommodate for our growth; and watched our business blossom from its small beginnings into a local hotspot! After 4 successful years in business, as we looked back on how far we'd come, Mike and I knew that it was time to give back.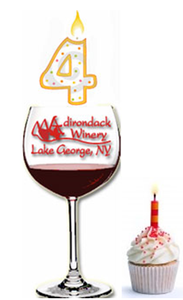 In 2012, we began to expand our support of local causes, donating to silent auctions and planning sales of certain products to benefit charities in the area. We also began donating time and wine to charity events such "Night at the Brewseum" and the May Wine and Brewed Sunshine benefit for the Ben Osborn Memorial Fund, both of which raised money for children and families in need.
We began our first major charitable campaign in 2012 with the debut of our Musical Medley, a special edition tropical fruit Chardonnay with flavors of pineapple and coconut. This wine was developed specifically with a local organization in mind – the Lake George Community Band! I've been a clarinetist in the LGCB for years, and it is filled with talented musicians ranging from high school teens to professional music teachers, directors, and composers. Every summer, our band hosts the Lake George Community Band Festival - the largest festival of its kind in the northeastern United States! The festival brings concert bands – and listeners of all ages - from throughout the Northeast and Canada to Lake George's own Shepard Park and many families have made a yearly tradition out of visiting the village and attending the festival.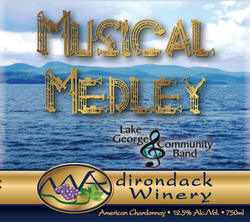 Over 1,000 bottles of Musical Medley were produced, with five dollars from the sale of every bottle going to the LGCB. A piece about the wine's release was featured in the Times Union and on WNYT channel 13 news, and our customers enjoyed the unique flavor of the wine and the knowledge that their purchase was supporting a local cause and benefiting our community.
Later in 2012, we were highlighted in the Post Star as well! Adirondack Winery was named as #1 Best Wine Selection in the Post Star's annual Best of the Region. We were thrilled to be recognized for our selection – we have always prided ourselves on the variety of hand-crafted wines lining our shelves.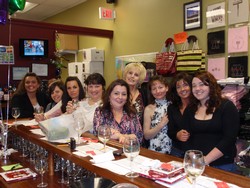 In the meantime, our wines continued to do well at wine competitions. At the World Value Wine Challenge in November, we won 3 silver medals, for Strawsling (AKA Soaring Strawberry), Semillon, and Pinot Grigio, which was named a "Best Buy" of the top 10 white wines under $20 and was awarded 89 points and a "Highly Recommended" status. Cabernet Franc, Tempranillo, and Blue Twilight all scooped up medals as well. By the end of 2012, our total was up to 61 medals won by 32 wines.
2012 was a busy year! We continued to dream big, and were excited to see what 2013 would bring. What else could be in store for Adirondack Winery? Only time would tell!
---
2011
Isn't it amazing how time flies? 2011 marked Adirondack Winery's third anniversary, and after three busy, successful years in business, we had plenty to celebrate!
Our third anniversary celebration coincided with the grand re-opening of our Lake George Tasting Room in April 2011. After planning the renovation in late 2010 and closing up shop during January 2011, we were thrilled to be able to reopen our doors and welcome everyone into our beautiful new space on Canada Street in time for Valentine's Day. In an effort to improve our guests' tasting experience, cut down on wait times, and make more room for everyone to enjoy their tasting session, we expanded the tasting bar to THREE TIMES its size! We went from a single bar crossing the width of the tasting room to a much larger, U-shaped bar with significantly upgraded materials. This new and improved tasting bar allowed us to use our space in a more dynamic way, and our customers loved how spacious and welcoming our tasting room felt!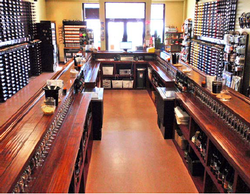 Our first special events in the new Tasting Room were held to commemorate our third anniversary. In addition to special wine tastings during our anniversary weekend, we held an exclusive party at the Tasting Room and served delicious dishes that we made with - and paired with - our wines. From Gewurztraminer fondue to wasabi mustard sea scallops and a tower of hand-decorated cupcakes, we had quite the impressive spread! My Aunt Renee even helped with the cooking and serving, making the celebration even more memorable.
In 2011, as our tasting room continued to fill up with customers, the recognition our wines were receiving showed no signs of slowing down. Even more of our wines earned medals at international wine competitions, where they were judged alongside more than 1,000 other wines submitted by wineries from around the world. By the end of 2011, the total number of medals we won had more than DOUBLED from 2010! 2011's wins had brought our total number of medals to 52, earned by 29 different wines, in just three years!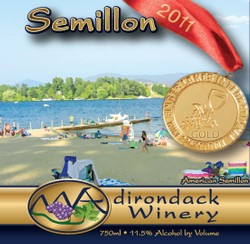 2011 also marked a huge achievement for us. For the first time, our wine took home gold medals…and a lot of them! Two of our white wines, Pinot Grigio and Semillon, took home our very first gold medals at the 2011 Finger Lakes International Wine Competition in March. Our wines were up against over 3,000 wines from close to 800 wineries. Less than 2 months later, our blackberry-infused red wine Amethyst Sunset and peach-infused white wine Prospect Mountain White also won gold at the 24th Annual Tasters Guild International Competition. We had only entered four wines in this competition, so for two of them to win gold medals was exciting! In October, we scooped up three more gold medals at the 2011 World Value Wine Challenge (three more wines received silver medals at that same event!)
Throughout the year, we continued with our mission to create outstanding, hand-crafted wines for our customers to enjoy. In mid-June, we introduced our newest dry red Tempranillo, and it didn't take long to win awards – it earned a silver medal at the 2011 Indy International Wine Competition. Apparently, our customers agreed with the judges' sentiments, since we sold out in less than two months! We also expanded our list of fruit-infused wines with Moonglow White, a tangerine-lemon infused Sauvignon Blanc. This limited-edition white wine's label showed off a beautiful image of glowing balloons lit up against the night sky during the Adirondack Balloon Festival's Moonglow.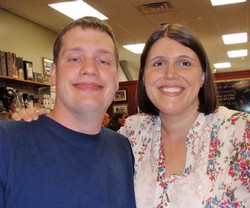 2011 was another year of growth for Adirondack Winery…but it was also a year of growth for our family! Mike and I welcomed our son, Ethan, in June. 2011 was a year that was all about expanding and evolving – both in our business, and at home! Our tasting room was transformed, our wines continued to win awards and recognition, and we had a new baby to keep us busy – but we didn't know what other fun and exciting changes were on the horizon. What would the years ahead bring? We were excited to find out!
---
2010
In 2009, our first anniversary celebration was all about our successful beginnings. But by the time our second anniversary rolled around, we were celebrating GROWTH! 2010 was all about change: the planned upgrade and transformation of our tasting room, and our huge winemaking expansion!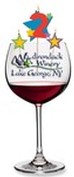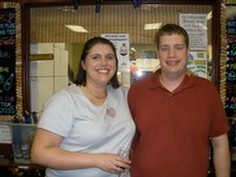 Going into our second year in business, we knew that what we were doing, we were doing well – we just needed to do more of it. The demand for our wines was high, and our tasting room was always packed. So we began to brainstorm: how could we exceed our customers' expectations to make their experience with Adirondack Winery even better?
With our growth in mind, we began planning for a major renovation of the bar in our tasting room. We wanted to better utilize the space to accommodate more customers and reduce their wait time. We created an ambitious plan to remodel our existing bar into a U-shaped tasting bar, tripling its size in the process, and upgrade the materials used. We were excited to begin revamping our home away from home!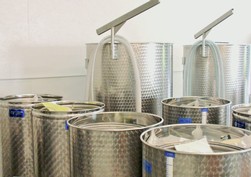 Early on, it quickly became clear that we could not continue with our small-scale winemaking operation in the back of the tasting room in Lake George, so at the end of 2009, we signed a lease for a warehouse facility on Big Bay Road in Queensbury. In 2010, it was time to make our move! We transitioned from making wine with small glass carboys and pails in a small space to a lab-like facility housing countless large stainless steel wine tanks, a semi-automatic bottling line, and a corking machine. We knew the new facility would give us the ability to make enough wine to respond to the growth in demand, and also allow us to explore growth in areas like our wholesale business and custom labeling business.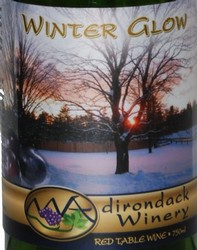 While all of these exciting changes were occurring, our wine – and our winery experience – continued to earn accolades and scoop up awards in 2010, as word of our success spread. By the end of the year, our number of award-winning wines had grown - 17 of our wines had earned a total of 25 medals from international wine competitions. Our newest wines, Season's Flourish (a pomegranate Zinfandel) and Winter Glow (a plum spiced Pinot Noir), made their debut in our tasting room and were very well-received.
Thanks to the votes of our customers, Adirondack Winery won first place in the Best Wine category, and #1 Best Gift Shop in Lake George for the second year in a row, in the annual Best of Lake George survey. In addition, TripAdvisor ranked us #1 of 19 attractions in Lake George with a 4.5 star rating.
As another year drew to a close, it was amazing to reflect on how much had changed – and how much we had grown! – in such a short amount of time. We couldn't help but wonder what the future would have in store for us, but one thing was for sure: we weren't slowing down anytime soon!
---
2009
It's amazing how much can change in a year! Adirondack Winery celebrated its first anniversary and a successful first year in business in 2009. Through all the changes that 2009 brought, one thing became obvious to us: that people really, really liked our wines!
Though we were only a year old, our wines were already beginning to attract attention from customers and connoisseurs alike. One of our values as a company has always been supporting our local area by showcasing the beauty of Lake George through the photography on our labels. I've always designed our labels using my photography with a sense of nostalgia in mind – I want our customers to feel like they're on vacation in the Adirondacks when they drink our wine. In 2009, our "Autumn Brilliance" series of labels caught the eye of judges at the annual New York State Wine Labeling & Packaging Competition, held at the Sonnenberg Gardens & Mansion State Historic Park in Canandaigua – and won second place.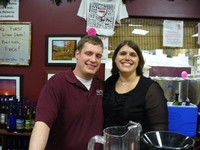 But it wasn't just the labels that were winning awards! Six of our wines earned medals at the 2009 World Value Wine Challenge. The WVWC is held annually by the prestigious Beverage Testing Institute, and is recognized as the nation's most comprehensive competition for wines $20 and under. Since it was our first-ever wine competition, we were flattered to have our wines competing alongside wines from all around the country, and Mike and I were excited when our Chardonnay, Riesling, Red Barn, Pinot Grigio, Barbera, and Fireworks Merlot all brought home medals.
When we began, finding ourselves unable to keep up with customer demand, we made the decision to begin carrying some wines from other New York State wineries. However, we only needed to supplement our offerings through the end of our first season - we were finally making enough wine to keep up with demand! By the time our first anniversary rolled around, there were 31 different types of wine on the shelves, all made by us. In addition to our initial 28 hand-crafted wines, we added Barbera (a full-bodied red), Serene White (a kiwi melon Pinot Grigio), and Berry Blush (a raspberry-infused blush) to our offerings.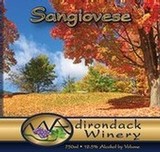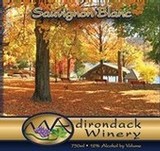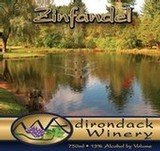 Looking back at our small beginnings, and looking forward to the future and all the potential it held, we knew then that it was time to expand. Mike and I signed a lease for the two back rooms of a 4,000-square-foot warehouse facility on Big Bay Road in November 2009. The building was a warehouse for arcade games, and Mike and his father were busy preparing to begin wine production in the back of the building. It was definitely a step up from making our wines in the back of the tasting room!
With our first year in business under our belt, we were excited to continue offering our loyal customers an unparalleled selection of wine and a true "wine experience" in our tasting room. What did the future hold? Keep watching this blog over the next ten weeks as we reflect on the past decade and the experiences that have shaped us into the winery you know and love today.
---
2008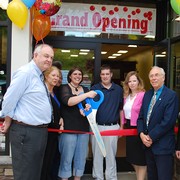 I can't believe we are only 10 weeks away from hitting a landmark for Adirondack Winery - our 10th Anniversary falls on April 17th, 2018 and this year we're celebrating April 13th through 15th with a weekend chock full of festivities! Mike and I are excited to have you join us all weekend long - from events at our Tasting Rooms in Lake George and Bolton Landing to our best yet Five-Course Wine Infused Dinner being held at the Fort William Henry Resort, complemented by a roster of more fun activities from Uncork & Craft to "UnWined Yoga" and more!
In this blog, I'll take you for a walk down memory lane with me, as each week I will recall how each year has passed for Adirondack Winery over the last decade!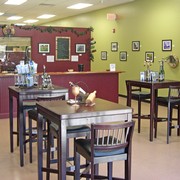 Mike and I developed a love for wine in our early twenties. Being the engineer by trade, Mike took it upon himself to learn the
art of winemaking. With an entrepreneurial spirit and vision for the future of the wine industry in non-traditional settings, we realized opening a micro-winery could be our path in life. So we took that chance and combined our winemaking passion with a love for the Adirondacks, making a home for ourselves in the Lake George area.
We opened our doors in April 2008 as one of the first Micro-Wineries in the country – at the time it was very unusual to have a Winery and Tasting Room NOT attached to a vineyard. Looking back on 2008 now, I can't imagine how we got by with the little space we had, but we did it! Our space at 285 Canada Street featured a tasting bar fit for about 15-20 people max. At the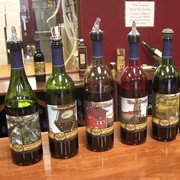 time, we were making our wines in the back of the tasting room using a small-batch method. Customers were able to taste the wine and peek around our dividing wall to see Mike making wine, and you'd find Mike and I behind the bar every day serving customers with the help of just a few part-time staffers.
While we launched with a list of 28 hand-crafted wines of diverse varietals; within a couple months we found ourselves unable to keep up with customer demand; so we started supplementing our supply by tasting and selling other New York State wines. I'm pleased to say that Adirondack Winery quickly became an establishment that resonated with locals and tourists alike, attracting visitors from across the country.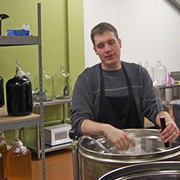 Time sure has flown by and we look forward to another 10 years to come! Check back over the next TEN weeks as we continue this trip down memory lane and reminisce how Adirondack Winery came to be what it is today, ten years later.
Comments
Commenting has been turned off.