October 15, 2020 | Angelina Groccia
Find Out Which of Your Favorite Wines Won a Gold Medal!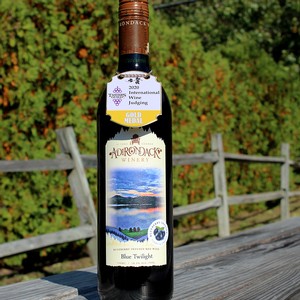 We are excited to announce that our blueberry infused wine, Blue Twilight, has won a GOLD medal at the 2020 Tasters Guild International Wine Judging. This annual wine judging event evaluates roughly 1,500 wines from over 15 countries and 30 states, judging individual wines on their merit by price and fruit varietals. This year's eminently qualified judges were able to recognize the beauty of Blue Twilight's exciting yet delicate flavor profile, awarding our wine with its first Gold medal!
Our Gold Medalist
Blue Twilight is our signature blueberry infused wine with subtle tannins and structure, offering a pleasant surprise to the palate. Adirondack Winery uses several grape varietals to compose this delicious semi-sweet blend. Inside a bottle of our Blue Twilight, you will find Baco Noir, Noiret, Foch and Chancellor all carefully blended to create the perfect balance. Your taste buds are sure to be excited by the slight tartness present in the Baco Noir which gently compliments the natural acidity of blueberries. It is no wonder this wine has come back from its Bronze medal in 2016 to claim the title of Gold Medalist in 2020!
Don't just take our word for it (or the highly experienced wine judges); our customers say "I love blueberries and this is the best infused wine I have ever had" and "[my husband and I] both love how smooth and not overly sweet this wine is! It's definitely a must-try!" If you would like to add a little gold to your wine collection and try ADK Winery's Blue Twilight wine for yourself, you can purchase it at online or by visiting one of our three Tasting Rooms in Lake George, Bolton Landing, and Queensbury,
ADK Winery Stargazer is a Showstopper
Our semi-sweet Blue Twilight was not the only star of the show, however. Two of our other deliciously crafted wines were awarded Bronze medals at the Tasters Guild Wine Tasting event this year: Stargazer and Prospect Mountain White wine. Our dry, ultra-smooth red wine, Stargazer, is one of our most unique wines at ADK Winery. This dry-red wine is aged for over 15 months in American toasted oak barrels until it is perfect to serve to our valued customers. The aging process is what gives this wine its luscious medium body and captivating garnet hue. Upon hitting the nose, your senses are met with enticing oak and spicy clove notes followed by a pleasant acidity and a touch of pepper spice. Stargazer's unique flavor profile is what has earned this wine its bronze medal! It is also made of 100% New York Lemberger grapes – so if you are not a New York native, you can now bring the taste of the Adirondacks right to your home, wherever that may be.
Prospect Mountain on the Rise
An ADK Winery original, Prospect Mountain White wine is one of our all-time favorites and it is certainly rising in the ranks. The expert judges from this year's Tasters Guild International Wine Judging recognized this semi-sweet peach fruit-infused wine as worthy of a medal. Having won several medals in the past, Prospect Mountain white wine continues to exceed our expectations as it continues to gain praise and popularity among the public. We are not surprised, though, since this white wine checks all boxes; it is crisp, flavorful, sweet but not overbearing, and full of peachy goodness. But enough from us – we will leave you with some encouraging words from our customers, "If summer had a taste this would be it. It's an amazing crisp tasting wine! I've brought it to several parties, and everyone raved over it."
We could not have said it better ourselves. Try some today and see what all the rave is about!
Comments
Commenting has been turned off.