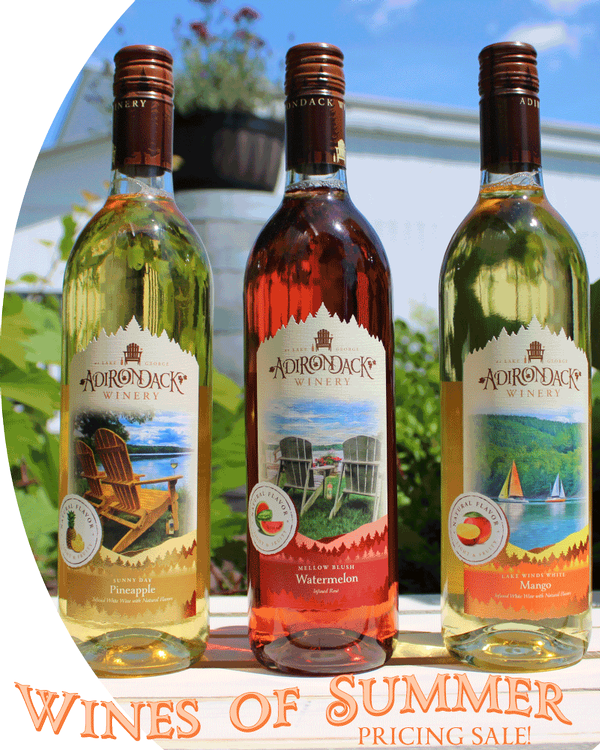 Contact your Opici rep directly or call
800-648-WINE to place your order today!
---
Below find marketing materials you can utilize to help promote these specific wines!
---
Share these wines to let your customers knows what's in-store!
Below are images and different copy variations you can utilize for your social media pages.

Post 1:
🌞🍷 Say hello to the taste of summer with Adirondack Winery's featured wines for August! ☀️🥂 Enjoy the sunny vibes of Sunny Day, a pineapple-infused semi-sweet white wine, savor the tropical flavors of Lake Winds White, a mango-infused delight, and indulge in the refreshing sweetness of Mellow Blush, our watermelon-infused rose. 🍍🥭🍉 But hurry, these summer sensations are on sale for a limited time only! 🌅🔖 Don't miss out on this special August pricing at Adirondack Winery! #SummerSips #AdirondackWinery #WineSale
Post 2:
Savor the flavors of summer with Adirondack Winery's trio of featured wines! 🌞🍷 Dive into the sunny notes of Sunny Day's pineapple infusion, experience the tasty tang of mango-infused Lake Winds White, and quench your thirst with refreshing Mellow Blush, our watermelon-infused rose. 🍍🥭🍉 These unique wines are available at special sale prices throughout August only, so make sure to stock up and celebrate the summer season! 🥂🌅 #TasteOfSummer #AdirondackWinery #WineLovers
Post 3:
🌞🍷 August is here, and Adirondack Winery has got just the wines to make your summer even sweeter! Enjoy the sunshine in every sip with Sunny Day's pineapple infusion, add a touch of tropical paradise with Lake Winds White's mango flavors, and delight in the refreshing taste of watermelon-infused Mellow Blush. 🍍🥭🍉 But don't wait too long - these summer-inspired wines are on sale for a limited time only! 🌅🔖 Visit Adirondack Winery today and take advantage of the August sale pricing! #SummerSips #AdirondackWinery #WineSale