December 17, 2021 | Colleen Senglaub
2021: A Look Back at an Incredible Year!
After 2020 turned our world upside down, 2021 was a year of looking forward for us. Things still looked a little different than we're used to. There was no anniversary party, but we instead celebrated our 13th Anniversary with an incredible three-day celebration at our Tasting Rooms. Sadly there was no festival, but we remained focused on bringing it back on June 25th & 26th, 2022.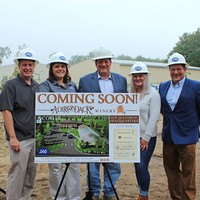 Overall, 2021 has been a year of growth, that is all thanks to our amazing customers! The biggest milestone of 2021 came in October when we finally broke ground on our brand new Winemaking Facility, Tasting Room, and Event Space at our Queensbury Headquarters. We held an amazing groundbreaking ceremony with over two dozen local officials, business leaders, and media members present. We've been moving forward with construction and hope to have the new facility open in the spring! We officially have a paved parking lot, a concrete floor and walls are coming very soon!
We launched a brand new subscription program called My ADK Wine Subscription this year and we are proud to say we have nearly 100 subscribers getting their choice of wine every month!
2021 was a big year for wines too! After being asked by our customers for years, we finally released our first-ever sparkling wines, Lakeside Bubbly and Beachside Bubbly. They were a huge success and the first batch sold out in just a few weeks! We also released our first ever Barrel Aged Pinot Noir, making our red wine drinkers very happy.
By popular demand, we were finally able to add Connecticut to the list of states where we can ship too!
After being hired as a Winemaking Assistant in 2011 and learning the art of winemaking for the past 10 years, Brad Casacci was promoted to Winemaker this year. Brad and his Winemaking Team had an exciting year with many awards coming their way. Stargazer, our first-ever Lemberger, won best in class at the New York Wine Classic. A few months later we released our first Lemberger Rosé, Moonlight, which won Double Gold at the Finger Lakes International Wine Competition.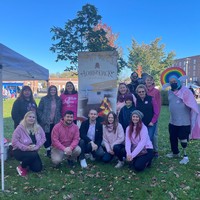 We had a record-breaking year with our 9th Annual Drink Pink Fundraiser, raising $14,800 for Making Strides Against Breast Cancer of the Adirondacks. We held two amazing Uncork and Craft events, sold lots of pink accessories and our popular Drink Pink Berry Breeze, and ended our fundraising efforts with the Making Strides Celebration in Glens Falls. We'll be working hard to have another record-breaking year with our 10th Annual Drink Pink and we hope you will be a part of it!
We are so excited to continue growing and we cannot wait to see what the future brings. We are gearing up for a big winter season with the world famous ice castles opening a location in Lake George. (Tickets on sale in January! Click here to learn more.) Plus, with our upcoming Grand Opening of our new Winemaking Facility and Tasting Room, we already know that 2022 is going to be our biggest year yet!
Of course, if you are looking to kick off the new year with your favorite Adirondack Winery wines, we have you covered! Click here to order our fruit infused favorites, including our sparkling wines ($3 off per bottle on peach infused white wine, Beachside Bubbly!) and take advantage of free shipping on 6+ bottles (and an extra $15 off 12+ online!).
Comments
Commenting has been turned off.