October 15, 2021 | Colleen Senglaub
5 Reasons to Renew Your Club Membership
It's hard to believe, but 2021 is coming to an end. That means it's time to renew your Club Memberships to make sure you are all set to get the best possible discounts for all of 2022!
How do I renew my membership?
Case Club: Purchase a total of 24 bottles by the end of 2021 (buy 36 bottles to upgrade to Gold Club for all of 2022!)
Gold Club: Purchase a total of 36 bottles by the end of 2021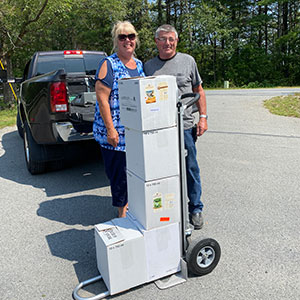 Why should I renew?
Wondering why you should renew your Club Membership for 2022? Look no further! We've got five reasons that are sure to convince you why it's worth it to stay a Club Member and enjoy our awesome benefits for another full year.
1. Amazing discounts
Our Club Members receive unmatched discounts. Case Club gets up to 20% off in store and up to 10% off online. Gold Club gets up to 25% off in store and up to 15% off online. PLUS, Club Members receive 10% off all accessories. You'll save so much money by staying a Club Member, the discounts cannot be beat!
2. Early access to new releases
Why wait a second longer to get access to our brand new and seasonal wines? Club members can purchase all new releases a full week before everybody else. That means you'll get first access to our sparkling wines, Serenity, Home Sweet Home and Red Carriage, and anything new our winemaking team comes up with in 2022!
3. FREE wine tastings every month
As a Club Member, you'll get a free wine tasting for you and three guests every single month. That's almost a $500 value! You can bring your friends and family in whenever you want and show them what makes our wine so special. If you renew now, you will be good to go and will never have to pay for a tasting in 2022.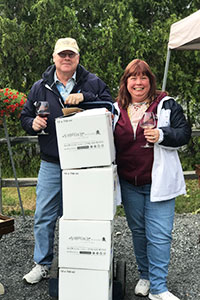 4. Club Week
Four times a year we literally roll out the red carpet for our Club Members. During our quarterly Club Weeks, you'll get free upgraded tastings and a special gift. We'll treat you like the VIPs you are and celebrate your loyalty to the winery.
5. Club Community
Last but certainly not least, by staying a Club Member you'll remain part of our amazing community of Club Members! Gold Club Members can stay part of the Gold Club Facebook page and interact with our owner on a regular basis. You will always be the first to know about exciting things happening at the winery, like our upcoming brand-new Winemaking Facility and Tasting Room in Queensbury. If you stick around next year, you'll get invites to exclusive Club Member events at this new location like we've never had before.
Have we convinced you? We sure hope so! You have until the end of the year to purchase enough bottles to keep you in our Clubs. Not sure where you stand? Reach out to our Club Manager at 518-668-9463 ext. 22 or clubs@adirondackwinery.com to find out what your bottle count is and how many more bottles you need to stay a Club Member for all of 2022!
Comments
Commenting has been turned off.