June 20, 2020 | Sydney Kerber
5 Things You NEED to Know About Booking a Tasting With Us!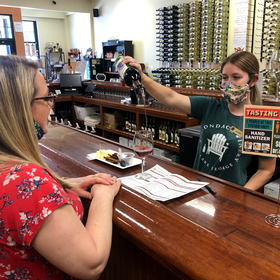 In the new age of social distancing and NY reopening, there are a few changes you should know about Wine Tastings at our Tsting Rooms. We want to assure all of our customers that we've made a few minor safety changes to our Wine Tasting experience but we think they are just as fun and unique as ever! Here are some of the biggest changes we've made.
We have never had a reservation system before but now we think it will benefit the flow and traffic of the Tasting Rooms and help us ensure that we meet capacity restrictions for the safety of our customers and our employees. We STRONGLY recommend making a reservation through our reservation system called Tock. You can see all of our booking information and links to our Tock profile HERE.
We ask that our customers who make reservations please be on time. Our Tasting Room staff is given a short amount of time in-between reservations to fully disinfect and clean each Tasting Station for the next customer and it is important that they have enough time to do that.
2. No Mask, No Service
All of our employees will be required to wear masks at all times during their shifts and we ask that our customers do the same while in the Tasting Rooms (other than when you are eating or drinking of course!) We are following CDC guidelines to ensure the safety of our staff and customers so please remember your mask!
3. We Are Practicing Social Distancing
We have arranged multiple "Tasting Stations" around all of our Tasting Rooms MORE than 6 feet apart so we can guarantee so long as everyone follows the rules you will be a safe distance away from other parties. We ask that all of our customers respect the rules we have in place and avoid walking around the Tasting Room as much as possible.
4. We Will Continue Curbside Pickup To Ensure That Traffic In Our Tasting Rooms Is Kept To A Minimum
Curbside pickup is a quick and convenient way to get the wines you love. In order to keep traffic inside to a minimum, we will continue to do curbside pickup (and offer curbside pickup only specials too!). For more information CLICK HERE
5. Wine Tastings Are Still Fun!
Wine Tastings at Adirondack Winery have always been fun and we aren't willing to compromise that! These safety precautions and rules are simple and are here to make everyone feel safe, so reserve a spot, grab your mask and come on up for a Wine Tasting!
Ready to book a wine tasting? Click here to see what's available at our 3 locations in Lake George, Bolton Landing and Queensbury!
Comments
Commenting has been turned off.