November 28, 2020 | Angelina Groccia
7 Gifts Every Wine Lover in Your Life Wants!
It's the most wonderful time of the year: the season of giving is here! We know it can be a difficult task choosing the right gift for that wine "Sommelier" in your life, so we came up with the perfect gift guide for you. Instead of buying a bottle of wine that you randomly selected from the liquor store shelf, surprise your favorite wine lover this year with a gift they actually want. To help you find the right touch, we have hand-selected some of our best and unique gifts to make the wine drinker on your list smile.
This is more than just a staple gift for the wine lover on your list! Our holiday wines are our best selling wines with beautiful Christmas labels that your wino will cherish! We've also just released our 2016 Library Wines for this occasion – carefully aged to provide the perfect gift your friends can't find anywhere else!
Want to make this gift extra special? Purchase one of our personalized bottles to include your very own handwritten message right on the bottle! Now that is a gift that they will remember long after the holidays have passed!

---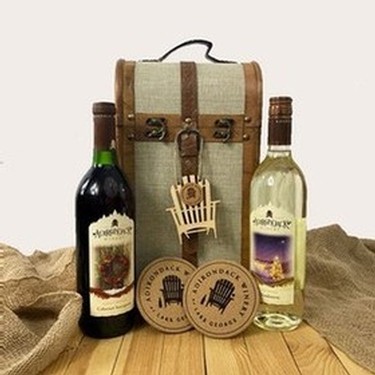 Our new wine gift boxes are out just in time for holiday shopping! This beautiful keepsake trunk comes with Pinot Noir and Pinot Gris wines, two Adirondack Winery cork coasters, and a wooden ornament to keep for years to come. Any wine lover can appreciate a gift set with all of their ADK Winery favorites! (More options coming 12/1/2020!)
This gift box is also reusable so your recipient can fill it with their favorite wines all year long, and they will think about you every time they do.

---
Wine newbies and snobs alike understand there are few things greater than a glass of white wine at a perfectly chilled temperature, or having red wine remain warm as intended. With the stainless steel sippy cup, your recipient will always have the perfect glass of wine!

---

Never waste half a bottle of wine again with this sleek VacuVin wine saver. This pump preserves your wine by pushing the air out of the bottle so you can still enjoy it days later. Every wine drinker has experienced having to throw out the remnants of their favorite bottle because they could not finish it within just a few days. Now, the wine lover in your life doesn't have to!

---
Give the gift of wine all year long with a Wine Club Membership for your wine-obsessed friend! They will receive four installments of three bottles of wine throughout the year. We only offer the most delicious, popular wines in our boxes so they are sure to get the best wines any time of the year!
Choose from three different boxes to satisfy any type of wine enthusiast on your list. (hint: get one that you like as well so you can share in the glory of all their new wines!)

---
This environmentally-friendly wine tote bag safely carries up to six of your favorite Adirondack Winery wines. Throw this bag over your shoulder and securely transport the essentials to any party, gathering, or day at the lake without any spillage!
This 6 bottle wine tote makes the perfect gift for the wine-loving, environmentally conscious consumer in your life!

---
We all know a serious lover of wine who turns up their nose at gifted bottles that don't match their taste. With an Adirondack Winery Gift Certificate, they can now choose their own! Click here for the ultimate guide to help you choose the right amount to give.
Our gift cards also make convenient but thoughtful last-minute gifts! They are sent to you instantly so there is no waiting around for a gift in the mail.

---
Comments
Commenting has been turned off.