March 13, 2018 | About Events, Press Releases, Winery Announcements | Sasha Pardy
Adirondack Winery Raises a Glass to a Decade in Business
Adirondack Winery Celebrates with 10th Anniversary Weekend Events
LAKE GEORGE, N.Y. (March 2017) — April 17th, 2018, marks ten years since Adirondack Winery opened its doors in Lake George – and owners Mike and Sasha Pardy could not possibly be more grateful for the support from customers, employees, business counterparts, family, and friends over the past decade. To celebrate, the winery will be holding its 10th Anniversary Celebration this April 13th-15th. Once a one-night event with 40 people enjoying a modest spread of homemade food and wine pairings in the Tasting Room, the winery's annual anniversary celebration has grown to include an amazing five-course wine infused dinner for 160 people and a weekend-long extravaganza jam-packed with multiple events (details follow) that draws over 500 people to Lake George over the course of the weekend.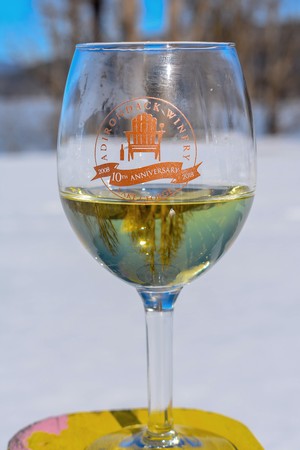 When Adirondack Winery opened in 2008 at 285 Canada St in Lake George, it was (and still is) Warren County's only winery and was probably one of the first micro-wineries of its kind in the Country, making its wines in the back of the store from grape sourced from multiple outside vineyards. At the time, the front third of the store was used for wine tastings, with a standing bar to accommodate about 15 tasters. Some were skeptical about the viability of a winery in this format in our area, but those worries quickly subsided, as customer demand quickly outpaced the amount of wine they could produce, so the Pardy's also sold other New York State wines to keep the shelves stocked. Wine production totaled about 1,000 cases that first year and the Winery's only staff were Mike, Sasha, and three part-timers.
Ten years later, Adirondack Winery has evolved into one of New York State's fastest growing wine brands, employing a staff of about 40 people (11 Full time, balance part-time) during peak season at its two tasting rooms on Lake George. The 285 Canada St Tasting Room was renovated and expanded in 2011 when winemaking was moved offsite to the Company's headquarters in Queensbury. Adirondack Winery's 2nd Tasting Room opened at 4971 Lake Shore Dr. in Bolton Landing in June 2017. Adirondack Winery now produces about 17,000 cases annually and has invested in state of the art winemaking equipment over the years. The winery now has a booming e-commerce business shipping wine to 35 states, has a thriving quarterly Wine Club with nearly 90 members, and its signature rewards programs, Case Club and Gold Club, totaled over 1,100 members at the end of 2017. You can find Adirondack Winery at Wine Festivals and tasting events and at 400 stores and restaurants throughout New York, ranking it among the top three New York wine brands in the Opici Family Distribution portfolio.
In 2014, Adirondack Winery completed a significant rebranding, introducing a new logo, wine labels, and website. The winery had become known for its trademark fruit-infused wines, a diverse wine selection, and beautiful photography of the Adirondacks featured on its labels, meant to evoke a nostalgia of the Adirondacks for every person that takes home a bottle. With the rebranding, the look and feel of the bottles clearly matched the quality within. In the past ten years, Adirondack Winery's wines have earned over 180 medals at International Wine Competitions – including a platinum medal and numerous double gold and gold medals - competing against thousands of wineries around the world.
As the winery grew, Mike and Sasha began focusing on expanding their events calendar, adding special themed weekend events, "Wine 101" classes, "Uncork & Craft" workshops, yearly anniversary celebrations, an annual "Drink Pink" effort that raised $6,000 for Making Strides Against Breast Cancer of the Adirondacks in 2017, and more. Adirondack Winery is also the presenter of the Adirondack Wine & Food Festival, which since its founding in 2015, has quickly become considered a top event in the region, drawing over 6,000 attendees to the Charles R Wood Festival Commons every Summer (June 23 & 24, 2018) and educating thousands of consumers on the amazing wines, craft beverages and artisan foods New York has to offer.
Giving back has always been important to Mike and Sasha, so as their business blossomed, they began to brainstorm how their wines could help to raise money for excellent causes. They began to produce unique, special-edition wine labels with a portion of the proceeds from the sale of each bottle benefiting organizations like the Lake George Community Band, Double H Ranch, LARAC, and Making Strides. In addition, the winery supports countless non-profits each year, providing wine tasting services, donating wine to silent auctions, and sponsoring a variety of charitable events.
With a focus on quality, enjoyable wine and a Tasting Room "Experience" that focuses on the customer first, Adirondack Winery has created a reputation as a top attraction in the area. TripAdvisor granted the winery its "Certificate of Excellence" several years in a row, and its official vacation rental blog affiliate, Flipkey, named it the #1 winery worth traveling for in New York State. For several years in a row, local voters have named Adirondack Winery the #1 Best Place for Wine, #1 Indoor Attraction, and #1 Gift Shop on LakeGeorge.com's annual "Best Of" Survey and it has also earned the #1 Wine Selection title in the Post Star's Best of Region Survey.
To celebrate the last ten years of success, Adirondack Winery is holding special events throughout the weekend of April 13-15 in Lake George. Friday evening, there will be a pizza and wine reception at the Fort William Henry Resort, and on Saturday morning, there will be a special edition Uncork & Craft at the Bolton Landing Tasting Room. Saturday evening will be the winery's signature wine dinner at the Fort, with five courses paired and infused with wine, and an after party will follow. Sunday's events include "Unwined Yoga" on the Fort's lawn and a wine-infused breakfast buffet. There will be special edition tasting flights offered in both tasting rooms during the weekend as well, with featured vendors, games, prizes, and more. Visit AdkWinery.com/events for more info.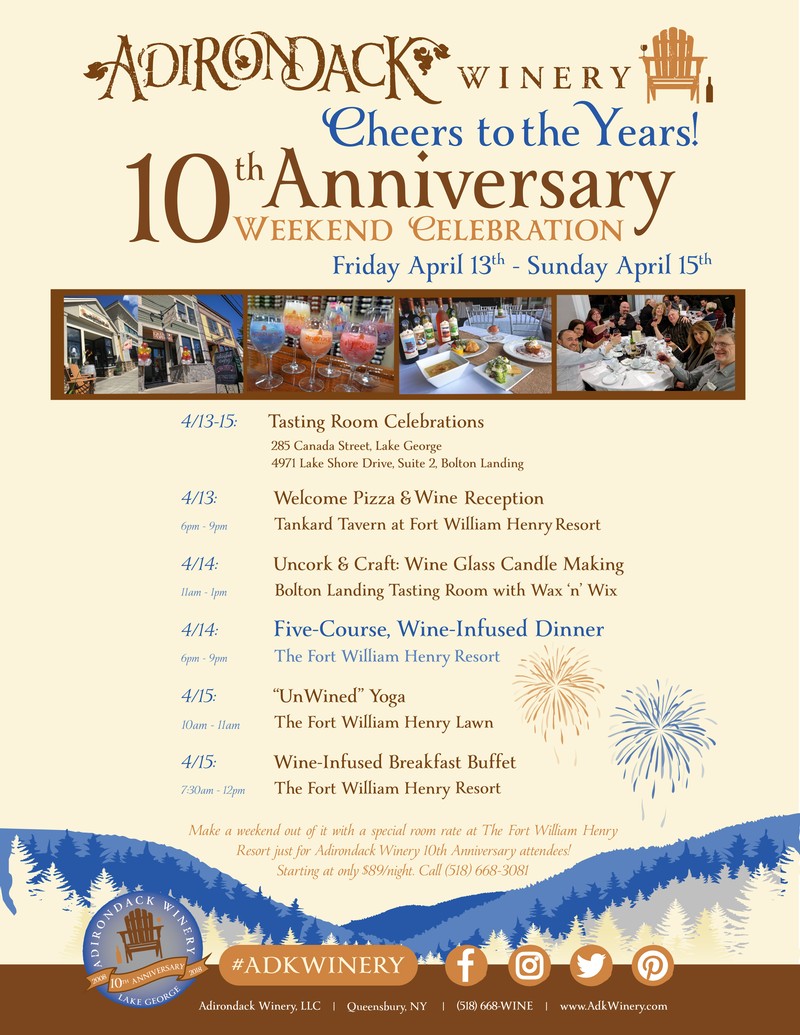 ABOUT ADIRONDACK WINERY:
Adirondack Winery opened in 2008 as the region's first winery. Winemaker/ CEO, Michael Pardy, creates the winery's wide selection of wines, which have won more than 180 medals at competitions to date. Adirondack Winery's wine labels (created by President Sasha Pardy) serve as a beautiful representation of Lake George and the Adirondacks, featuring artistic photographs of the gorgeous landscapes and landmarks of the region. Adirondack Winery's winemaking facility is in Queensbury, NY and its Tasting Rooms are located at 285 Canada Street in Lake George and 4971 Lake Shore Drive in Bolton Landing, NY. Adirondack Winery's wines are available for sale at its Tasting Rooms and Headquarters; through its online store with shipping to 35 states; at +/- 400 wine stores and restaurants in Upstate New York; and at wine festivals & fairs throughout New York. Adirondack Winery is also the presenter of the Adirondack Wine & Food Festival, held June 23rd & 24th at Charles R. Wood Festival Commons in Lake George.
Comments
Commenting has been turned off.