November 9, 2021 | Colleen Senglaub
Winery Expansion Update: A Special THANK YOU to Our Fans!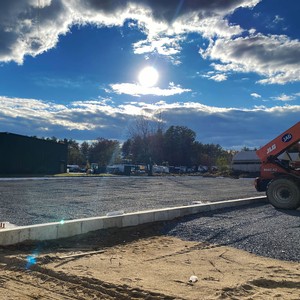 Construction of our new Winemaking Facility and Tasting Room is well underway. The foundation is officially in, and the construction team is working hard to pave the road and parking lot before winter. This new building has been a long time in the making. Construction was delayed several times due to COVID-19, and there have certainly been bumps in the road, but we know it is all going to be worth it. This expansion would not be possible without the many people who have supported Adirondack Winery for the past 13 years. The incredible progress we have been making has made us realize how much we have to be thankful for this Thanksgiving!
Our Customers
First and foremost, our amazing customers! Adirondack Winery would not be possible if we didn't have the support of so many amazing customers, and we are beyond thankful for every single one of you. It's because of our customers that we have a need to expand our current offerings and build a bigger space where we can produce more wine.
A special shoutout goes to our incredible Club Members! Our most loyal and dedicated customers, our Club Members are a huge part of why we can make this step. We can't wait to offer all our customers the things you have been asking about for years and to try and make sure we never run out of wine on you again!
The Community
One of the most important things to our brand is loving local and connecting with the community we are lucky enough to call home. We do this by serving local products, supporting local charitable organizations, and showcasing the beauty of the Adirondacks on our labels. That support goes both ways, and we are so thankful for everything the community has done for us. That support was prevalent at our Groundbreaking Ceremony when we had over a dozen local officials and members of the business community join us. We cannot wait to continue building these relationships and connecting with the community in new ways once we open our new facility.
The Adirondack Winery Team
Since we started in 2008 making wine out of the back of our Lake George Tasting Room, our team has grown so much! None of this would be possible without all our amazing employees managing our Tasting Room, making our wine, shipping our wine, and so much more. We're so thankful and cannot wait to continue growing our team alongside this expansion.
While we still have a few months to go before we're serving wine at this new Tasting Room, our Lake George Tasting Room is open for business! Click here to book a wine tasting for the holidays and shop our huge array of holiday gifts at the Tasting Room. Don't live local? Check out our online Holiday Shop and have your gifts sent right to your door.
Click here to learn even more about our new Winemaking Facility and Tasting Room and be sure to follow us on social media and sign up for our Inner Circle Email List for regular construction updates!
Want to be part of this exciting expansion? Click here to go to our careers page to find about exciting opportunities to join our team!
Comments
Commenting has been turned off.