April 16, 2019 | Roberto Cruz
Thanks for making our 11th Anniversary the best yet!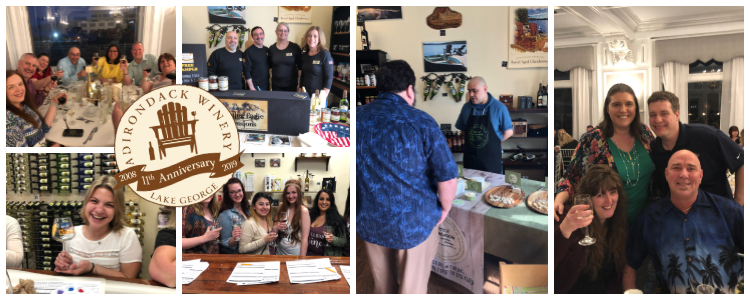 First, a BIG thank you to everyone who celebrated our 11th Anniversary with us this past weekend. We were so thrilled with the response and we had a BLAST celebrating with you all!
Our 11th Anniversary Wine Dinner was a hit, with five courses (including surf-and-turf) paired and prepared with Adirondack Winery wines. The food was delish and the wines made them even better!
This year marked the first year of our Sip & Spin Saturday at our Bolton Landing location. One of everyone's favorite Tasting Associates Nick was whipping up wine cocktails made with our Wild Red, Baco Noir, and Gewurztraminer. If you had them - and even if you didn't - and you'd like to try them at home, click here for the recipes. High Peaks Highball | Million Dollar Ginger Fizz | Story Teller Cosmo
Of course, our Lake George Tasting Room events were a big hit. We had more than 600 people visit Friday through Sunday and we were so glad to have each and every one of you be a part of our big weekend!
You can see the fun we had for yourself in the video below. And if you weren't able to make it, don't worry; we have plenty of exciting events coming up for Mother's Day, Memorial Day, Father's Day weekend & more! Stay tuned for details and click here for a list of our upcoming events.
Comments
Commenting has been turned off.