April 25, 2018 | Holiday Guides | Vicky Seabury
The Adirondack Winery Guide to Mother's Day!
Mother's Day is Sunday, May 13th – just around the corner! We know you want to show your mom how special she is – so we've created a guide to Mother's Day for you! Whether you want to wrap a gift to give to your Mom, make memories with her on a fun outing, or surprise her with a homemade wine-infused treat, Adirondack Winery has you covered!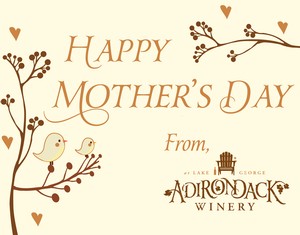 No two moms are alike, so we've got a variety of ways you can treat your mom to something special on Mother's Day! Need help narrowing down the options? Take this quiz to figure out which type of gift matches your mom's personality – and we'll give you some suggestions on what to give her to make her Mother's Day amazing!
What is your mom most likely to do on her day off?
A.) Spend time catching up with a friend
B.) Go to the mall or her favorite store
C.) Relax in a bubble bath with a glass of wine and a book
You and your mom are going on vacation together! What are you most likely to find her doing?
A.) Taking as many photos as possible
B.) Shopping for souvenirs
C.) Trying out the local cuisine
Your mom just won the lottery! What's the first purchase she makes?
A.) Family vacation
B.) New car
C.) Fancy dinner
Which of these would make your mom the happiest?
A.) Pedicure or manicure
B.) New clothes
C.) Box of chocolates
You and your mom decide to take a fun class together. Which of these would pique her interest?
A.) Crafting class
B.) Pottery class
C.) Cooking class
If you picked: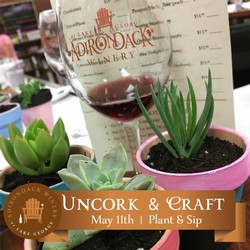 Mostly A's – Your mom is the sentimental type! She enjoys new experiences and creating memories with her loved ones. We recommend: Ultimate Wine Tasting for Two, Uncork & Craft – Sip and Plant, Uncork & Craft – Wine Glass Candles, tickets to the Girlfriend's Getaway in Bolton Landing or the Adirondack Wine & Food Festival.
Stop by our Lake George or Bolton Landing Tasting Rooms this Mother's Day and purchase an Ultimate Wine Tasting for Two! Moms get to sample three wines for free! Is your mom the crafty type? Bring her to Uncork & Craft: Sip and Plant on Friday 5/11, where she can paint a flower pot for an adorable succulent, or Uncork & Craft: Wine Glass Candles on Saturday 5/12, where she can create her own wine glass candle with our friends from Wax 'n' Wix! You could also take your mom to the Girlfriends' Getaway in Bolton Landing on May 11th-13th for a weekend full of workshops, classes, demos, and more, including a wine and chocolate workshop with Adirondack Winery! Won't be in town for Mother's Day? Get a pair of tickets to take your mom to the Adirondack Wine & Food Festival on June 23rd-24th!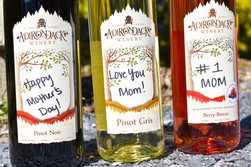 Mostly B's – Your mom is the practical type! She likes hands-on gifts that she can unwrap and use every day. We recommend: Personalized bottle of wine, pink sippy cup, stemless tumbler, coffee mug, wine glass candles.
Say something sweet this Mother's Day! Add your own special message to a personalized bottle of Adirondack Winery's Berry Breeze, Pinot Noir, or Pinot Gris! Pair a personalized bottle of wine with a pretty pink sippy cup, stemless tumbler, or kitschy "There Might Be Wine in Here!" coffee mug! Does your mom love candles? Our wine glass candles look (and smell!) great!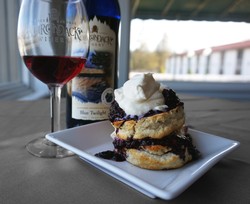 Mostly C's – Your mom is the traditional type! She's the kind of mom who appreciates breakfast in bed or an enjoyable dinner out with her family. We recommend: treating your mom to a homemade "Mom"-osa wine cocktail, baking her a sweet wine-infused treat, or giving her a gift certificate to Adirondack Winery so she can go on her own shopping spree!
It's so quick and easy to whip up a batch of our "Mom"-osa wine cocktail – and it tastes as good as it looks! Got a little more time on your hands? This recipe for Amethyst Sunset Blackberry Shortcake with Soaring Strawberry Whipped Cream is so simple and SO delicious! Check out our Recipes page for even more easy-to-make wine infused recipes!
Make this Mother's Day one to remember and raise a glass to your mom! No matter what type of personality your mom has, we've got the perfect gift for her. Cheers to moms everywhere! Happy Mother's Day!
Comments
Commenting has been turned off.