Seyval Blanc Shrimp Scampi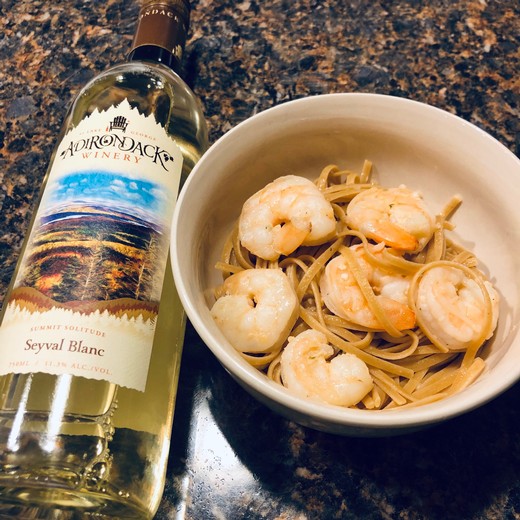 Measurements:
Imperial (US)
This Garlic Butter Shrimp Scampi made with our Seyval Blanc can be enjoyed as an appetizer, light meal OR dinner with your pasta of choice! If you are looking for a healthier option, try it with zucchini noodles or with cauliflower!
Ingredients
2 tbsps Olive Oil
4 tbsps Butter
1 1/2 tbsps Minced Garlic
1 1/4 lbs Large Shrimp
1/4 cup Seyval Blanc
2 tbsps Lemon Juice
1/4 cup Parsley
Directions
For the pasta: In large pot, bring water to a boil. Add your choice of pasta and cook while making the scampi
Heat olive oil and 2 tablespoons of butter in large pan or skillet
Add garlic and sauté until fragrant
Add shrimp (season with salt and pepper) and cook 1-2 min each side until light pink
Pour wine and bring to a simmer until wine reduces to about half and the shrimp is cooked through
Stir in the remaining butter, lemon juice, and parsley. Take off heat immediately
Add scampi to pasta mixture & enjoy!