Shrimp & Artichokes with Pinot Grigio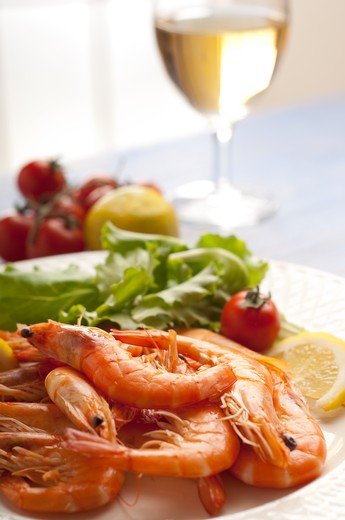 Recipe Date:
January 14, 2015
Measurements:
Imperial (US)
Ingredients
4 tbsps Extra Virgin Olive Oil
1 tbsp Minced Garlic
1 tsp Salt
1/4 tsp Ground Black Pepper
1 tsp Paprika
20 Shrimp (Peeled & Deveined)
6 ozs Artichoke Hearts (Quartered)
1/2 Pint Grape Tomatoes
1 cup Pinot Grigio
2 ozs Arugula
2 tbsps Fresh Parsley
Directions
1. Warm olive oil in a saute pan over medium heat.
2. Add olive oil, minced garlic, salt, pepper, and paprika and saute until fragrant.
3. Increase the heat and add the shrimp. Saute until the shrimp turn pink.
4. Add in the artichoke hearts and grape tomatoes and saute for 1 minute; then deglaze with wine.
5. Toss in the arugula and sprinkle with parsley to serve.
*Recipe adapted from Rainer's Gourmet Inspirations.