Adult Applesauce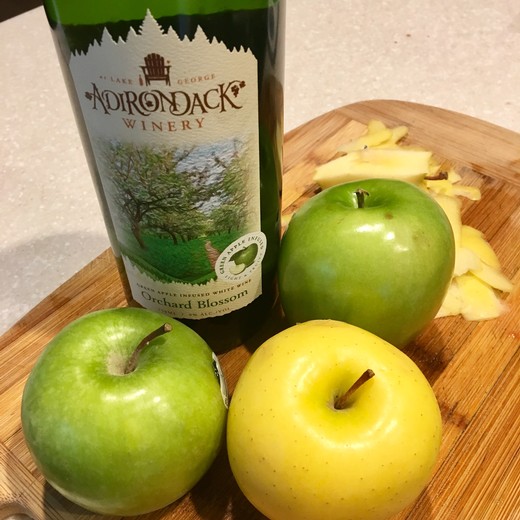 Recipe Date:
October 3, 2016
Measurements:
Imperial (US)
Looking to take Fall Apple season up a notch? Try Adirondack Winery's version of Applesauce! We used fan favorite, Orchard Blossom, our Green Apple Infused White Wine, but this recipe could be used with any semi-sweet white wine. Have fun!
Ingredients
4 Apples (we used green, but any kind is fine)
2 Bottles of Adk Winery Orchard Blossom (While this is best, any semi-sweet white wine would do)
3 tbsps Cinnamon & Sugar mixture
Directions
Peel & Chop apples into approximately 1" cubes
Bring Orchard Blossom wine to a boil in a sautee pan.
Put in diced apples.
Let boil until liquid is almost gone.
Sprinkle cinnamon & sugar mixture evenly over contents of pan.
Stir in Cinnamon & Sugar and let apple mixture simmer until liquid is completely gone.
Turn off pan.
Mix up in saute pan until mixture looks like chunky applesauce.
For a smoother consistency, blend in a food processor or blender.
A delightfully sweet carmelized applesauce is the result! I enjoyed the applesauce still warm served over vanilla ice cream, but my husband enjoyed it chilled on its own as a sweet dessert. We think this would also be great served over a warm cinnamon roll!
p.s. I think 1 bottle of wine would do, the resulting flavor would just not be as intense.
Watch the How-to Video: