Adirondack Winery Chili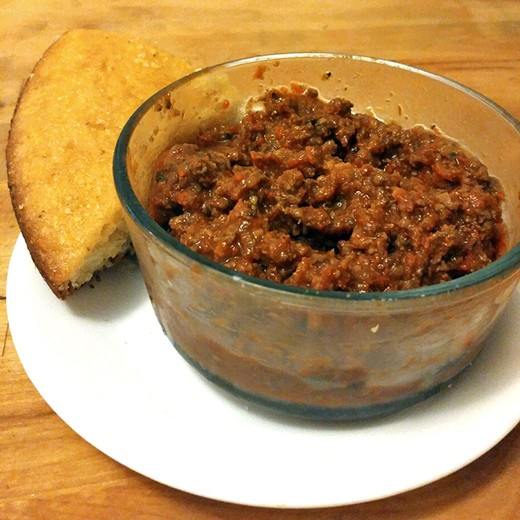 Recipe Date:
February 4, 2017
Measurements:
Imperial (US)
This recipe may look a little long, but it's extremely simple to make and has so many spices for maximum flavor!
Ingredients
1 cup Adirondack Winery Syrah
1 lb Ground Beef
1 lb Ground Pork
2 Onions (minced)
2 Celery Stalks (minced)
10 Garlic Cloves (minced)
3 Dried Ground Chilies
2 tsps Cayenne
2 tbsps Smoked Paprika
2 tbsps Oregano
2 tbsps Thyme
2 tbsps Cumin
2 tsps Red Pepper Flakes
2 tsps Salt
2 tsps Pepper
1 tsp Sugar
6 ozs Tomato Paste
2 cans Crushed Tomatoes (28 oz.)
4 1/2 cups Water
1/4 cup Corn Meal
Black Beans (8 oz. dried beans OR 2 cans)
Directions
Chili:
Grind dried chilies in a food processor.
Mince onion, celery & garlic.
Heat a large stockpot (at least 5 quarts) over medium heat.
Sauté onion, celery, and meats for 10 minutes or until meat is brown
Drain fat if desired. Add all spices, salt, pepper, chilies, garlic & tomato paste.
Cook for 2 more minutes, stirring frequently.
Add Wine, stir to loosen bits up from the bottom of the pot.
Add crushed tomatoes, then fill each can with water once and add to the pot.
Turn heat up to med-high, and bring mixture to a low boil, stir well, then partially cover with a lid and reduce heat to keep at a slow simmer.
Let simmer for 3-5 hours. Stir occasionally, and add water as needed to keep the mixture from getting too thick.
2-3 hours before chili is done, prepare black beans:
8 oz. dried black beans
1 onion (minced)
2 stalks celery (minced)
8 garlic cloves (minced)
1 tsp cumin
1 tsp oregano
1 tsp thyme
Water
Heat 1 tbsp. oil in a 3-quart pot over medium heat.
Sauté onion and celery 5 minutes, then add garlic and cook for approximately 1 minute or until fragrant.
Remove from heat. Add dried beans and spices. (DO NOT SALT YOUR BEANS - Salt will prevent the beans from absorbing liquid and they will remain hard as rocks!)
Cover beans with about 3 inches of water. Return to the burner on high heat, cover & bring to a boil.
Once boiling, remove the lid, stir and let boil for a couple of minutes.
Reduce heat to med-low and simmer for 2-3 hours, stirring occasionally and adding water as needed until beans are creamy & soft.
When beans are done, add to chili. If using canned beans, add beans to chili after 2-4 hours of simmering are over.
Add ¼ cup of cornmeal. Let simmer 30 more minutes, stirring frequently. Taste and add salt if needed.